Another Destination?
Advertisement
Checking and Reclaiming Luggage

Luggage at the Airport
As mentioned previously, try to avoid checking in late. But do not check it too early too. If your flight does not leave for several hours then consider keeping your bags with you. Most airlines now do not let you check in more than a few hours before departure. Some other suggestions: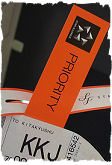 If you do have a tight connection, then politely ask when checking in if they can place a Priority tag on your luggage. Priority tags are handled first, so there is always a better chance that your luggage will make it. Usually priority tags are reserved for elite flyers, so your request may be denied.

Luggage on Arrival



Written by Steve Romaine






More Smart Luggage Tips