Things To Do in Moab & Canyonlands Airport Layover Ideas
Things to do in Moab if you have a Canyonlands Airport Layover or Extended Canyonlands Airport Stopover
If you have an extended layover at the Canyonlands Airport or staying in town, why not consider getting out with some fun activities? We list a few here and there are many more on
Moab.LayoverIdeas.com
.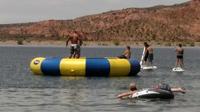 Duration:
Flexible
Priced From:
USD 50.00
Inflatable SUP Paddle Board and Water Bouncer Rentals in Moab, Utah. Paddle boards are able to go out on the Colorado River or Kens Lake, and the Water Bouncer allows you to have a trampoline right in the middle of the lake!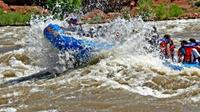 Duration:
7 hours 30 minutes
Priced From:
USD 52.00
The Fisher Towers section of the Colorado River is heavy on scenery, with some fun rapids, depending on the water level and time of year. This is an area where many motion pictures and commercials have been filmed over the years. John Wayne and John Ford filmed a lot of old westerns in this area. Most recently filmed in this area was The Lone Ranger with Johnny Depp and Armie Hammer in 2013.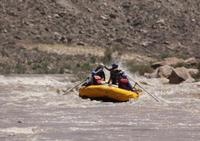 Duration:
Varies
Priced From:
USD 54.00
Experience the beauty of a rafting trip along the Colorado River near Fisher Towers, a short drive from Moab. Seemingly untouched by civilization, the landscape of stunning red rock canyons cut by the Colorado River provides awe-inspiring vistas throughout the day. Between thrilling bouncy rapids, you can swim, take photos and listen as your guide shares informative commentary about the ecology, wildlife and human history of the region. Choose either a half-day or full-day trip and enjoy an incredible rafting excursion for the whole family. ... Read More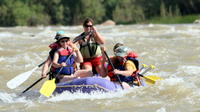 Duration:
4 hours
Priced From:
USD 60.00
This half-day rafting trip is fun for the entire family! Enjoy the beautiful scenery as you raft past Moab's Fisher Towers. The trip includes transportation to and from the water, personal flotation devices, dry bags and, of course, your whitewater raft. This half-day excursion is a great way to fit Utah river rafting into your vacation.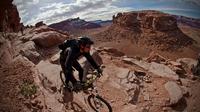 Duration:
4 hours
Priced From:
USD 64.99
Experience the best of Moab by mountain bike! Challenge your athletic ability and get your adrenaline pumping as you explore Moab. On this 4-hour guided mountain bike tour, you have the option of bringing your own bike or renting a full suspension mountain bike. Bottled water and guide are included.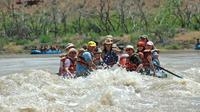 Duration:
1 day
Priced From:
USD 69.00
Each year nearly four thousand guests take this barrel-of-fun ride down 13 miles of the Colorado River near Moab. If you've never rafted whitewater before, and would like a taste of the thrill, this is the perfect way to get your feet wet. You'll ride through six moderate to small rapids, class I-II, and enjoy some of the best scenery in America. As the piece-de-resistance, enjoy a fabulous homemade BBQ lunch on a pristine sandy river beach. Moab days don't get much better than this!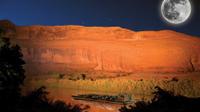 Duration:
3 hours
Priced From:
USD 69.00
For an old time show and the finishing touch on a perfect day, come along and enjoy a cowboy-style, Dutch oven dinner and an evening boat ride on a calm part of the Colorado River. Once it's dark, 40,000 watts of natural light will illuminate the canyon wall as the stories of the early settlers come to life. The Canyonlands area is unlike any other in the world, making this boat ride one of the most outstanding events you will never forget.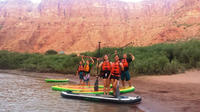 Duration:
4 hours
Priced From:
USD 75.00
Experience a half-day of stand up paddle boarding in the adventure town of Moab, Utah! On the Colorado River you will be surrounded by peace, tranquility and towering red rocks. You will learn river safety, have an on-land stand up paddle lesson, followed by a practice session on the water. Once everyone is comfortable, the unforgettable experience of SUPing down the Colorado River will begin.
More Canyonlands Airport Transfer & Airport Connection Options