Things To Do in Nha Trang & Nha Trang Airport Layover Ideas
Things to do in Nha Trang if you have a Nha Trang Airport Layover or Extended Nha Trang Airport Stopover
If you have an extended layover at the Nha Trang Airport or staying in town, why not consider getting out with some fun activities? We list a few here and there are many more on
Nha-Trang.LayoverIdeas.com
.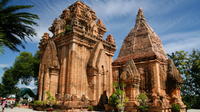 Duration:
4 hours
Priced From:
USD 25.00
Nha Trang city, a small city on the south central coastline of Vietnam, is a famous beach city of Vietnam. Travelers like to travel to Nha Trang, not because of its beach, but also by its historical relics from Cham civilization represented as Po Nagar tower, a sacred Hindu site dating back to the 7th century, Stone Church built in French colony time, to Long Son Pagoda - Buddhist pagoda built in commemoration of the monks and nuns who died whilst fighting the Diem Government. We will have a half-day city tour to visit these places and have time to go shopping at Dam Market and enjoy Vietnamese coffee at a local coffee shop. ... Read More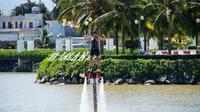 Duration:
Depends on option selected
Priced From:
USD 28.40
Seen Flyboarding? Try it now in Vietnam! One of the newest and greatest attractions to hit Nha Trang. Our friendly Flyboard Nha Trang staff will give you all the helpful tips you need to become a pro. Flyboarding combines an array of popular sports including Jet Skiing, water-skiing, wakeboarding, skiing, snowboarding and even acrobatic diving.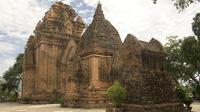 Duration:
4 hours
Priced From:
USD 30.00
Some may not consider Nha Trang a must-go destination when compared to bigger Vietnamese destinations such as Hanoi and Ho Chi Minh City, but all the same this quaint city has enough charm to provide some decent snapshot material for those wanting to take home good visual memories of their holiday destination. The towers of Thap Ba Ponagar, Long Son Pagoda and the Oceanographic Institute are undoubtedly the most popular cultural sight on offer.<br>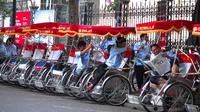 Duration:
2 hours
Priced From:
USD 37.00
A trip around the city by cyclo is an excellent way to see Nha Trang. Let your personal driver show you some of the most selective silk and handicraft shops, along with the popular Dam Market. You will not only have the chance to shop 'til you drop, but to meet with the best local tailors and sample the traditional Vietnamese culinary delights. The perfect way to travel in true Vietnamese style, relax in your private cyclo as the shopping bags pile up. A delightfully stress free shopping trip not to be missed.... Read More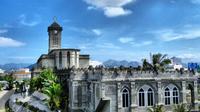 Duration:
8 hours
Priced From:
USD 39.00
Enjoy this day tour and visit Nha Trang and let your guide show you numerous attractions in Nha Trang City. The highlights of this tour are Cau Da and its Vietnam Oceanographic Institute, Stone Church, Chong Promontory Rocks and the Po Nagar Temples. The tour ends with a visit to local Dam Market.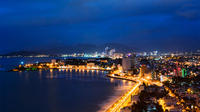 Duration:
4 hours
Priced From:
USD 51.00
Discover Nha Trang city by bicycle, the preferred method of traditional transport of Vietnam. Clients will enjoy street life by night. They will drive along Tran Phu street, visit XQ historical village – an embroidery gallery/workshop and go around tourist attractions streets. Hotel pickup and dinner is included.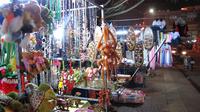 Duration:
3 hours
Priced From:
USD 51.00
Every early morning fishermen gather at Vinh Truong fish market to sell fresh fish, oyster, crabs and other kinds of species netted overnight. Visit the biggest fruit and vegetable market in Nha Trang, where visitors can find both local and imported fruits and vegetables. Have a breakfast of "pho" followed by Vietnamese coffee at a local coffee shop.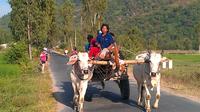 Duration:
7 hours
Priced From:
USD 55.00
This full day tour exploring the beauty of Nha Trang's countryside which is the capital city of Khánh Hòa Province – on the South Central Coast of Vietnam gives you a great chance to visit many highlights of this city such as the Dien Khanh Citadel. Joining in this tour, you also can enjoy learn more about the techniques of local farmers here.