Things To Do in New Delhi & Delhi Airport Layover Ideas
Things to do in New Delhi if you have a Delhi Airport Layover or Extended Delhi Airport Stopover
If you have an extended layover at the Delhi Airport or staying in town, why not consider getting out with some fun activities? We list a few here and there are many more on
New-Delhi.LayoverIdeas.com
.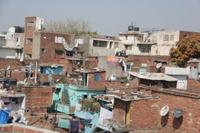 Duration:
3 hours
Priced From:
USD 11.25
Gain awareness and a deeper understanding of Sanjay Colony, a small slum located in the south of Delhi. This walking tour with a qualified guide takes you to several locations including small-scale businesses, a temple, a family home, and a school. Learn about challenging work conditions and residential life on your visit to this determined community inside the slum. Your tour includes a one-way metro ticket from Connaught Place to Okhla Station. Choose a morning or afternoon departure on this tour limited to six people, ensuring an informative experience with a small group. ... Read More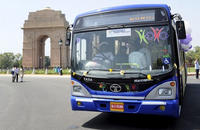 Duration:
Flexible
Priced From:
USD 12.00
Explore Delhi at your own pace aboard an air-conditioned bus on a hop-on hop-off sightseeing tour. The route features 22 stops including highlights such as the Red Fort, Humayun's Tomb and Qutub Minar. Shop for handicrafts at Central Cottage Industry Emporium, admire India's top artworks at the National Gallery Of Modern Art, or glimpse the halls of government when you drive by Rashtrapati Bhavan and Embassy Lane. Listen to onboard commentary in through the bus' speaker systems about the history and culture of landmarks as you drive by. Choose from a 1- or 2-day pass to suit your schedule and hop on and off the bus as many times as you like with a handheld GPS-enabled device (if option selected) to guide you through the important heritage sites.... Read More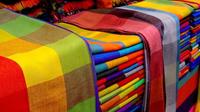 Duration:
6 hours
Priced From:
USD 20.00
Enjoy a comfortable means of transportation from your preferred location in Dehli to experience 3 of the major shopping markets of your choice. With this comfortable transportation taken care of, you can relax and walk through these markets to browse the handicrafts, fabrics, clothing and more, always knowing that the arranged transportation is awaiting to take you to your next destination safely and punctually.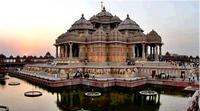 Duration:
4 hours
Priced From:
USD 20.00
This tour takes you on a journey through the marvelous Akshardham Temple, where you'll witness the enormity and beauty of this exceptional monument under the guidance and knowledge of an private expert guide. Visit the temple, appreciate its splendor, and watch the exceptional musical fountain show to experience Indian faith at its best.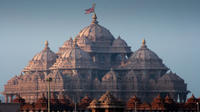 Duration:
3 hours
Priced From:
USD 20.00
Enjoy a morning walking tour at the remarkable Swaminarayan Akshardham Temple. Experience a cultural revelation at this alluring temple and appreciate its remarkable architecture under the guidance and knowledge of your expert private guide. Visit the temple and then walk through the Garden of India to experience faith at its best.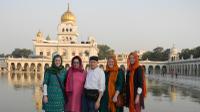 Duration:
4 hours
Priced From:
USD 20.00
This tour gives an insight into the local lifestyle of Delhi, the city's colorful history, and most of all, its people. Visit the ancient Hanuman Temple where you will walk through its glorious lanes and can even get a Henna Tattoo (not included). Then, take a Tuk-Tuk ride and visit the legendary Gurudwara Bangla Sahib. Here you will see the giant kitchen which feeds thousands of people each day, and will have a chance to participate in their charitable work if you choose to do so.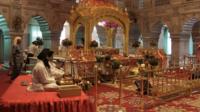 Duration:
3 hours
Priced From:
USD 21.00
See Old Delhi on this 3-hour tour of markets and monuments. A friendly local guide takes you through the bustling streets for an authentic glimpse of the 'walled city' in the heart of Delhi. As you travel by foot and rickshaw, explore Khari Baoli spice market, visit a Sikh temple, and admire historical landmarks such as the Red Fort and Jama Masjid. Numbers are limited to seven people, ensuring a personalized experience with a small group.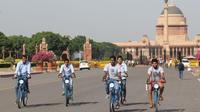 Duration:
4 hours
Priced From:
USD 22.00
New Delhi's wide flat streets and magnificent monuments make it the ideal area for a bicycle ride. On this small group tour, cycle down the long promenade leading up to India Gate, explore the Lodhi Gardens, enjoy a North Indian breakfast and much more!
More Delhi Airport Transfer & Airport Connection Options