Things To Do in Windhoek & Windhoek Eros Airport Layover Ideas
Things to do in Windhoek if you have a Windhoek Eros Airport Layover or Extended Windhoek Eros Airport Stopover
If you have an extended layover at the Windhoek Eros Airport or staying in town, why not consider getting out with some fun activities? We list a few here and there are many more on
Windhoek.LayoverIdeas.com
.
Duration:
3 hours
Priced From:
USD 60.00
Etosha Pan is situated in Etosha National Park and with the largest salt pan in Africa, were you will embark a game drive for 3 hours.<br /><br /> You won&rsquo;t just explore the pans but different kinds of animals like lion, leopard, elephant, rhino, giraffe, wildebeest, cheetah, hyena, mountain and plains zebra, steenbok, kudu, gemsbok, eland jackal, bat-eared fox, warthog, honey badger, ground squirrel and many more. The Park is home to 114 species one can go for a morning, afternoon or night game drive.... Read More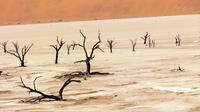 Duration:
3 hours
Priced From:
USD 64.00
This 3-hour tour brings you in an all-terrain vehicle to explore the beautiful stretch of land known as Deadvlei and Sossusvlei. This place is a paradise for photographers as they contrast between the pitch-black trees, bleached-white pans, rusty-red dunes and deep-blue sky to make for incredible images.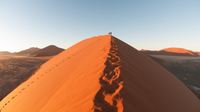 Duration:
3 days
Priced From:
USD 317.31
The 3 day Sossusvlei Tour will give you a quick landscape snapshot of the world's highest dunes in the world's oldest desert at Sesriem & Sossusvlei.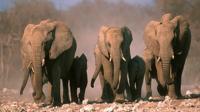 Duration:
3 days
Priced From:
USD 317.31
This 3 day Etosha Tour has been designed to give you a quick "wildlife snapshot" to one of the best game viewing areasin Namibia, the Etosha National Park.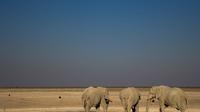 Duration:
3 days
Priced From:
USD 391.39
This African Wildlife Safari includes visiting one of Africa's premier game reserves, Etosha National Park. Including game drives, the chance to meet some local Namibian tribes, while staying in the comfort of accommodation with en-suite bathroom. This is a small-group tour caters for wildlife & nature lovers, and eco-friendly explorers. Explore Etosha National Park and search for species such as rhino, lion, cheetah, leopard, elephant, giraffe and numerous species of antelope as well as an impressive 340 species of birds.... Read More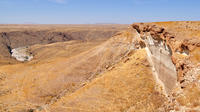 Duration:
3 days
Priced From:
USD 436.82
Experience the desert wonders of Sossusvlei in Namib-Naukluft National Park on this 2-night tour from Windhoek or Swakopmund. Marvel at the majestic red dunes, among the highest in the world, and see the plant and wildlife that survive in the harsh terrain. Climb star-shaped dunes like Dune 45 and 'Big Daddy,' visit the eerie beauty of Deadvlei, a landscape of blackened trees in a white clay pan, admire Sesriem Canyon and travel through scenic mountain passes. This exciting 2-night tour includes safari-camp accommodation located near the park. ... Read More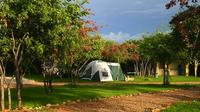 Duration:
5 days
Priced From:
USD 449.00
Short tour of Etosha National Park.Budget tour is for the saving conscientious and perfect for groups. Accommodation is in tents. Meals are from local pizzerias, excellent local hamburgers (natural grazing animals) and takeaways (takeouts). Day 1 and Day 5 in Windhoek is same accommodation establishment.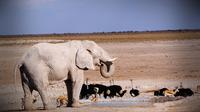 Duration:
4 days
Priced From:
USD 475.26
This budget accommodated Namibian wildlife safari provides a great opportunity to witness Namibia's wildlife up close in Etosha National Park. Ideal for wildlife & nature lovers, this lodging tour includes 2 nights in the Etosha area, and 1 night in the adventure capital of Namibia, Swakopmund. Optional activities here include quad-biking and sandboarding or instead visit the Walvis Bay Lagoon, a RAMSAR listed wetland, home to many bird species including the greater and lesser flamingo, endemic Damara Tern, pelicans and more.... Read More
More Windhoek Eros Airport Transfer & Airport Connection Options