Things To Do in Goa & Goa Airport Layover Ideas
Things to do in Goa if you have a Goa Airport Layover or Extended Goa Airport Stopover
If you have an extended layover at the Goa Airport or staying in town, why not consider getting out with some fun activities? We list a few here and there are many more on
Goa.LayoverIdeas.com
.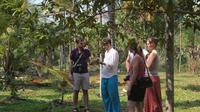 Duration:
90 minutes
Priced From:
USD 9.00
Experience Goa's traditional form of farming and discover a vast variety of spices, medicinal herbs and tropical fruits. Cinnamon, Pepper, Chillies and Nutmeg, tropical trees like Cashew, Coconut, Arecanut and Teak thrive all over this 100% organic plantation. On the informative walk around the plantation you will hear about various spices, medicinal plants and their uses. You will also gain insights into organic agriculture, bio gas production and cashew fenni distillation. At the end of the guided tour you have the opportunity to pick up some local products before relishing home-cooked Goan food. ... Read More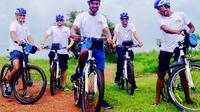 Duration:
2 hours
Priced From:
USD 30.00
This day tour of hill cycling will take you around the Ramparts and Bastion of Fort Aguada near Candolim in North Goa. It will be a relaxing cycling adventure along fishing villages, cliffs, rivers and seaside areas surrounding the prime tourist belt of Candolim, Sinquirim and Nerul in North Goa.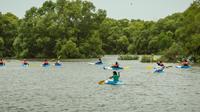 Duration:
2 hours
Priced From:
USD 30.00
This kayaking tour gives you an insight to life around the rivers & backwaters of Goa. Views of quaint riverside hamlets, fishing communities, thick mangrove forests where there is a variety of bird & marine life all around you with no traffic or other distractions. You are going to be as close to Mother Nature as you can comfortably and safely be.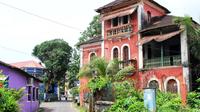 Duration:
10 hours
Priced From:
USD 45.00
Everybody loves the beaches of Goa. But then again, Goa is a lot more than pretty beaches and snazzy clubs. Goa, unlike the rest of India, had its destiny shaped by 450 years of confluence of Portuguese and Indian traditions. This is a land dotted with ancient churches and tropical forests, just about everywhere you go. The people here are renowned for a contented style of living, much forgotten in today's fast paced life. The food combines the cooking methods of the Iberian Peninsula with the spicy flavours of India. Do unwind at some of the pristine beaches of the region, but also take a day out to explore some of the lesser known aspects of Goa.... Read More

Duration:
4-5 hours
Priced From:
USD 50.00
Experience the dynamic city of Panaji both by water and by land on this 6-hour, private evening tour. First, enjoy a scenic cruise on the Mandovi River while watching cultural performances. Then, tour Panaji by private vehicle and by foot. Visit several religious sites including the Mae De Deus Church, the Our Lady of Immaculate Conception Church and the Maruti Temple situated on the hilltop of the Altinho neighborhood. Admire how these structures radiate against the night sky while listening to informative commentary from your expert local guide. A traditional Indian dinner and hotel pickup and drop-off are included. ... Read More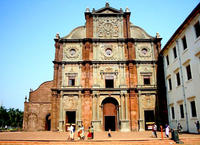 Duration:
6 hours
Priced From:
USD 50.00
Discover Goa's historical Portuguese influences on this private half-day tour. Learn about Goa's colonial history as you visit some of the region's most Portuguese-influenced sites including the Se Cathedral and the UNESCO World Heritage-listed Basilica of Bom Jesus. Then, visit Fontainhas, the heavily Portuguese-influenced Latin Quarter in the city of Panaji, before marveling at fantastic views of the Arabian Sea from one of Goa's hidden gems, the Dona Paula Jetty. After your tour, you can choose to enjoy a traditional Goan and Portuguese lunch at the popular O'Coquerio restaurant. ... Read More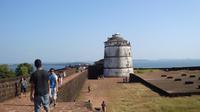 Duration:
8 hours
Priced From:
USD 50.00
Take a full day private tour to Old Goa - Pornnem Goem, Adlem Goa, Goeam or Velha Goa. Enjoy the insight of your guide as you visit Fort Aguada, Reis Magos, Calangute Beach and Anjuna Beach.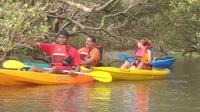 Duration:
2 hours 30 minutes
Priced From:
USD 55.00
Take part in this magical experience into the mysterious, exotic green mangroves. Explore these narrow channels, bend your head and kayak under the low lying branches! See new greens' everywhere with the chirping of the young wet ones, the frolicking river otters or the leaping silver (rainbow) mullets. Watch and wonder as hundreds of tiny crabs crawl and climb higher and higher on the bigger mangrove trees/bushes. Hear the temple bells signal the dawn of a new beginning as the prayers rise up to the sun. Its cool, there's shade to rest and munch your snacks, quench your thirst, reflect and wonder at the amazing birdlife and God's own green maze on the waters.... Read More
More Goa Airport Transfer & Airport Connection Options