Things To Do in Agadir & Agadir Airport Layover Ideas
Things to do in Agadir if you have a Agadir Airport Layover or Extended Agadir Airport Stopover
If you have an extended layover at the Agadir Airport or staying in town, why not consider getting out with some fun activities? We list a few here and there are many more on
Agadir.LayoverIdeas.com
.
Duration:
2 hours
Priced From:
USD 0.34
Agadir is an attractive touristic location that you have to explore from many different ways especially its fantastic and clean coastline. For spending your amazing sailing experience on Agadir coastline, come and enjoy your fantastic 2-hour boat excursion on the board of the yacht.<br>Your dream boat trip will start from Marina by making your fisrt step on board of the comfortable boat which is fully equipped with all what you need to spend a peaceful day sailing.<br>After sailing, we will stop for a while to try fishing and have traditional Moroccan Barbece of fresh fish and Moroccan salade. Further out the sea, you will stop once again to try a dive from the boat if you want to. Agadir sunshine allows you to take a sunbath on the ship board for people who are looking for refreshing & relaxing day combined with good emotions.<br>... Read More
Duration:
2 hours
Priced From:
USD 5.79
Family of Sapotacées, its vernacular names are the shaft of iron, ' The Olivier of Morocco ', Argane ( in Berber ) and the argan tree.
Duration:
3 hours
Priced From:
USD 12.73
Agadir excursion will lead you to discover the kasbah called Agadir Oufella; an old kasbah destroyed by the earthquake in 1960, then the center of the new city called la nouvelle ville, stop at the main mosque, Argan oil extraction factory, and the grand Souk; (large market in town).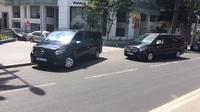 Duration:
30 minutes
Priced From:
USD 14.00
As soon as you arrive at the Agadir airport book your shared shuttle with a personalized welcome service at the airport. Take advantage of our offer which includes a professional driver and a brand new vehicle to meet your needs.
Duration:
3 to 4 hours
Priced From:
USD 14.46
Agadir was always a strong city that witnessed a lot of events, in this city tour you will have the chance to stop by many interesting spots. First, you will have a morning walk by the ocean from Marina (A harbor) to the city center where you will picture a memorial wall dedicated for the city when it was destroyed by an earthquake. Moreover, it is impossible to visit Agadir without seeing the museum and Souk El Had. Back to your pick up point or based on your request
Duration:
3 to 4 hours
Priced From:
USD 14.46
Agadir was always a strong city that witnessed a lot of events, in this city tour you will have the chance to stop by many interesting spots. First, you will have a morning walk by the ocean from Marina (A harbor) to the city center where you will picture a memorial wall dedicated for the city when it was destroyed by an earthquake. Moreover, it is impossible to visit Agadir without seeing the museum and Souk El Had. Back to your pick up point or based on your request
Duration:
3 to 4 hours
Priced From:
USD 14.46
Agadir was always a strong city that witnessed a lot of events, in this city tour you will have the chance to stop by many interesting spots. First, you will have a morning walk by the ocean from Marina (A harbor) to the city center where you will picture a memorial wall dedicated for the city when it was destroyed by an earthquake. Moreover, it is impossible to visit Agadir without seeing the museum and Souk El Had. Back to your pick up point or based on your request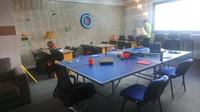 Duration:
4 hours
Priced From:
USD 17.36
Enjoy a half day pass at our cosy coworking space. Benefit from our cofee area to read a book, work on your project or discuss with members about Agadir and his interests ! <br> <br>We are located in the center of Agadir ! we are close to hotels area ! We can also make hotel pickup and drop-off at&nbsp;5 euros the shuttle. <br>We can provide also meals in our coworking space, there is also a library and ping pond table for example..We can help you to visit Agadir and all Morocco ! Welcome !... Read More
More Agadir Airport Transfer & Airport Connection Options