Things To Do in Durango & Animas Airpark Airport Layover Ideas
Things to do in Durango if you have a Animas Airpark Airport Layover or Extended Animas Airpark Airport Stopover
If you have an extended layover at the Animas Airpark Airport or staying in town, why not consider getting out with some fun activities? We list a few here and there are many more on
Durango.LayoverIdeas.com
.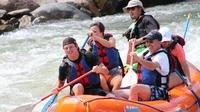 Duration:
4 hours
Priced From:
USD 59.00
Experience the full beauty of the Lower Animas with this 4-hour trip, about 3 hours on the water, which includes a snack break and an unforgettable adventure with expert local guides in Durango. Suited for the whole family, you will also have the option to purchase a photo CD to preserve your memories when the trip is done.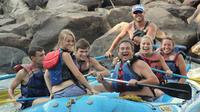 Duration:
4 hours
Priced From:
USD 62.54
Rafting the Animas River is consistently rated as one of the highlights of visitors vacationing in Durango, Colorado. Enjoy a safe and fun Animas River raft trip in the company of a professional guide. The family-friendly Class I, II & III rapids are enough action to engage novices without being intimidating. Kid-tested and mom-approved since 1981.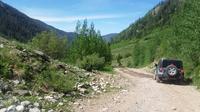 Duration:
2 hours 30 minutes
Priced From:
USD 65.00
The beautiful Sunset Tour is an excellent option for those short on time. Leaving at 6:15 pm and returning around 8:45 pm this tour takes you via Jeep (vehicle dependent on group size) to explore the beautiful canyons and ghost towns of the La Plata mountains.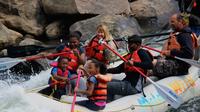 Duration:
4 hours 30 minutes
Priced From:
USD 65.27
Explore Durango's Lower Animas River on this half-day family rafting trip through town. The Lower Animas is a popular river for visitors and locals alike. Get a unique view of Durango through the rapids, savor a river side snack and experience the scenic beauty south of town. Paddle along with the guide or sit back and relax as the guide does all the work. Learn the history of the region and stories of local traditions as you experience Durango, Colorado river rafting. Rafting on the Lower Animas in Durango offers a great mild trip option for ages 4 and up.... Read More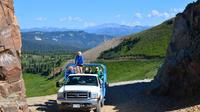 Duration:
4 hours
Priced From:
USD 84.80
This 4-hour guided 4x4 tour of La Plata Canyon just west of Durango covers native and mining history, geology, flora and fauna on the way to stunning views at 12,000 feet above sea level. Led by a local expert, this adventure is fun for riders of all ages and skill levels.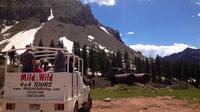 Duration:
4 hours
Priced From:
USD 97.37
Discover Jeep tours that provide beautiful scenery, seasonal wildflowers and wildlife spotting. Explore the beauty of La Plata Canyon as you travel through pines and past cascading creeks above treeline to over 12,000 feet with views of majestic peaks in every direction.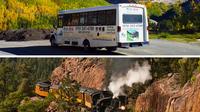 Duration:
10 hours
Priced From:
USD 113.42
Take a bus to Silverton and then train back to Durango to experience the Durango and Silverton Narrow Gauge Railroad. You'll see the breathtaking Million Dollar Skyway, which offers a few of the San Juan Mountains, the wildest and ruggedest peaks in the Colorado Rockies. Then enjoy a drive through the beautiful peaks and cliffs that run right next to the road.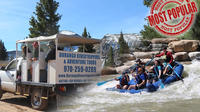 Duration:
10 hours
Priced From:
USD 130.00
Come see what we do best. For over 34 years we have been adventuring in Durango. 2 amazing adventures in 1 day. At 8:00 am take a beautiful trip through the La Plata Canyon on a guided 3.5 hour 4x4 Jeep Trail tour. You will . Step back in time as you travel past historic ghost towns and mining relics. Enjoy the scenery and wildlife, and the wide-open beauty of La Plata. Take in the view from Kennebec Pass at an elevation of 12,000 feet, and do it all with the safety and comfort of an experienced guide. <br />Then at 2:00 pm we cool off by hitting the Animas River with a 4 Hour door to door White Water Raft trip. This is a class III white water river with amazing views. <br />8:00 am to 12:00 pm Jeep Trail Tour<br />12:00-1:45 pm Explore amazing downtown Durango on your own. <br />2:00 pm to 6:00 pm White Water Rafting... Read More
More Animas Airpark Airport Transfer & Airport Connection Options