Things To Do in Buffalo & Buffalo Municipal Airport Layover Ideas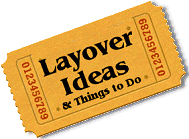 Things to do in Buffalo if you have a Buffalo Municipal Airport Layover or Extended Buffalo Municipal Airport Stopover
If you have an extended layover at the Buffalo Municipal Airport or staying in town, why not consider getting out with some fun activities? We list a few here and there are many more on
Buffalo.LayoverIdeas.com
.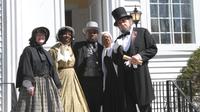 Duration:
5 hours
Priced From:
USD 107.00
Venture back into the 19th century, moving about and within original structures built by Early American Craftsman. We take you back to an era where protest, abolition and visionaries were the order of the day. Encounter historical figures like Sojourner Truth – former slave, speaker, abolitionist, and women's rights activist, witness President Lincoln and Sojourner Truth as they re-enactment their review of the Emancipation Proclamation. Drive-By the 1830 Quaker meeting house "the Society of Friends" and their influence and connection with Western New York's Anti-Slavery & Underground Railroad Movements. Drive-by the summer home 13th American President – Millard Fillmore – who allowed passage of The Fugitive Slave Law. Hop-off the van for a unique opportunity to shop a Viddlers 5 & 10 - the largest 5&10 in North America or, the opportunity to shop at the Made in America Store.... Read More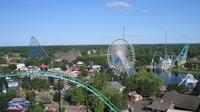 Duration:
2 days
Priced From:
USD 299.00
Darien Lake is New York State's largest Theme Park and Resort! Your package includes full access to both the Theme Park and Water Park (weather depending) for a group of up to six people for two full days! You'll stay in a comfortable Slide Out RV and enjoy a complimentary breakfast for all of your guests!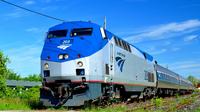 Duration:
2 days
Priced From:
USD 399.00
Experience Buffalo the city on the shores of Lake Erie in upstate New York on this 2-day trip from New York City! Travel through the Hudson Valley by train and soak up the beautiful views. On arrival, enjoy fun-filled sightseeing shopping, dining and touring. Your trip includes hotel, round trip trains tickets, a 60 minute sightseeing tour of Buffalo seeing Its fine neoclassical, beaux arts and art deco architecture.
More Buffalo Municipal Airport Transfer & Airport Connection Options