Things To Do in Colmar & Houssen Airport Layover Ideas
Things to do in Colmar if you have a Houssen Airport Layover or Extended Houssen Airport Stopover
If you have an extended layover at the Houssen Airport or staying in town, why not consider getting out with some fun activities? We list a few here and there are many more on
Colmar.LayoverIdeas.com
.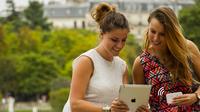 Duration:
Flexible
Priced From:
USD 41.92
You will get the best solution to get the internet throughout your trip in France, with the rental of a personal WiFi hotspot, also called 'Pocket WiFi' or 'MiFi'! You book it before your trip and receive it at your hotel or rental flat everywhere in France. At the end of your rental, you simply return it with the prepaid envelope included.<br><br>The easiest and cheapest way to get on the internet here in Colmar. Avoid the frustration of hotel WiFi that is slow and often doesn't work, forget about loosing your contacts and the limits of a French sim card: you own a personal and password protected unit, with unlimited and shareable data.... Read More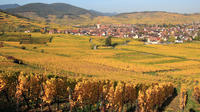 Duration:
4 hours
Priced From:
USD 87.34
Discover the wines of Alsace during this half day wine tour departing from Colmar. In small groups of a maximum of 8 people, follow your driver/guide along the Alsatian wine route and enjoy two tastings in local wineries. Here you will discover the different aromas that can be found in the famous local varietals which include Gewurztraminer, Riesling, Pinot gris, Sylvaner and many more.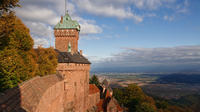 Duration:
8 hours
Priced From:
USD 145.56
Alsace is certainly one of the most beautiful regions of France. This tour was designed to give visitors the opportunity to discover some of the most relevant sights of the region. The visits include Haut-Koenigsbourg castle, thrilling Riquewihr, small villages that line the wine route and a wine tasting session in a local winery.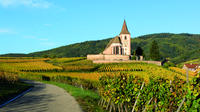 Duration:
8 hours
Priced From:
USD 145.56
Enjoy a full day wine tour departing from Colmar. Discover the unique Alsace wine route as you drive through beautiful countryside and authentic villages. Your day will include 4 visits and guided tastings in carefully selected wineries known for the quality of their wines. The grand majority of the wineries of Alsace are family owned and have been so for generations. As you meet the owners, discover the large range of wines that are produced here and the passion needed to craft such wines.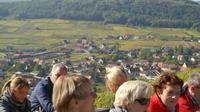 Duration:
8 hours
Priced From:
USD 227.08
Get to know the most beautiful villages of Alsace and get introduced to the wines of the region too on this private day trip. You will visit Riquewihr, Colmar and Equisheim. The tour will start at the Castle of Haut Koenigsbourg. This tour is designed for all people that want to do more than just wine tasting. Also if your time is limited and/or if you travel with children this tour is a great opportunity for you.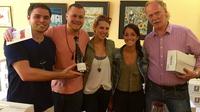 Duration:
8 hours
Priced From:
USD 227.08
A full day overview of the great variety and quality of Alsace wines visiting four different wineries. You will follow the Alsace wine route and also take you though some back roads. Along the way you will enjoy beautiful panorama's and drive through many storybook villages.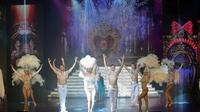 Duration:
8 hours
Priced From:
USD 250.36
<p><em>Pass an extraordinary day with our minivans and driver, along the wine route, the beautiful vineyards, little villages and explore the typical Alsatian architecture which is magical, colourful and unique. Of course, a real Alsace visit can't go without a wine tasting in a unique wine cave. To enjoy some glamour in the Alsace we take you to visit the castle Haut-Koningsbourg a completely restored castle with an astonishing panoramic view over the entire wine route at the top. But to end in style we take you to a dinner show with the French Cancan, a revue show for an unforgettable time.</em></p>... Read More
More Houssen Airport Transfer & Airport Connection Options