Curaçao Airport (CUR) Shuttle Transfers
Shared Curaçao Airport Shuttle Transfers

We have 2 shared shuttle transfer options

, including transfers between airports, ports, train stations, tourist attractions and popular destinations. Click any option below for details and to compare features and pricing (all will open in a new tab). If you have any questions or would like to customize any Curaçao Airport transfer listed,

then please contact us

.

To ensure availability, we strongly recommend booking our transfer services at least 48 hours prior to your scheduled arrival or departure. Curaçao Airport private transfer options are also available

.






Airconditioned Vehicle (Shared Transfer) from USD 24
We provide an easy and economical shared airport transfer service to/from Curacao International Airport (Hato International Airport) that guarantees a convenient and comfortable ride to your destination, whether planning trips for business or for pleasure. To ensure your peace of mind, we carefully select only the most experienced and reliable operators in each destination.




This transfer service runs to various destinations, please see the transfer details for destinations served and pricing | Shared shuttle transfer FAQ's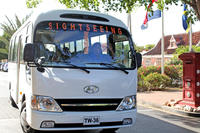 Shuttle (Private Transfer) from USD 25
Upgrade your vacation and book your round-trip airport transfer. You will find your airport hostess just outside the airport arrival terminal in Curacao with your name on it. Get escorted to your air-conditioned bus and once onboard you will receive your welcome letter including all relevant information (include a 24/7 local destination office number in any case of an emergency) about Curacao in order to make your stay a memorable one. Enjoy... Read More




This transfer service runs to various destinations, please see the transfer details for destinations served and pricing | Shared shuttle transfer FAQ's
Travel Tips & Articles You Might Like






More Curaçao Airport Transfer & Airport Connection Options