Things To Do in Dunedin & Dunedin Airport Layover Ideas
Things to do in Dunedin if you have a Dunedin Airport Layover or Extended Dunedin Airport Stopover
If you have an extended layover at the Dunedin Airport or staying in town, why not consider getting out with some fun activities? We list a few here and there are many more on
Dunedin.LayoverIdeas.com
.
Duration:
45 minutes
Priced From:
USD 10.45
For 150 years the Otago Museum has been amassing its world-class collection of more than 1.5 million objects. The Treasures of the Museum tour showcases the fascinating and the unique, the biggest and the best. See the world's largest collection of articulated moa skeletons and New Zealand's biggest fossil, the plesiosaur. Explore the treasures of early Māori and meet an Egyptian Mummy; walk alongside a fin whale skeleton or encounter an eight-member rat king. Discover a wealth of stories and find new inspiration from old wonders.... Read More
Duration:
45 minutes
Priced From:
USD 10.45
Discover the secrets of the surprising south, from its unique wildlife and natural resources to the strong and enterprising people of the land. Hear of the journeys of early Māori sourcing seasonal food supplies or precious pounamu (greenstone), and learn how whaling, gold, agriculture and industries built Otago's prosperity. See the largest collection of articulated moa skeletons in the world, plus New Zealand's largest fossil, the Shag Point plesiosaur.<br>Take a close-up look at southern icons – the royal albatross and local penguins, and hear success stories of the saving of the "last" takahē and other unique rare and endangered animals.... Read More
Duration:
2 hours
Priced From:
USD 17.42
Join the locals. 2nd & 4th Saturdays morning walk & Talk an art precinct Summer/Autumn & Spring seasons.<br>Discover Dunedin's fabulous visual arts. Always changing. Always evolving. Along with the literary art and music scene, Dunedin has developed a great fine visual arts sector. There is a significant collection of fine art galleries, ever changing exhibitions of emerging, mid-career and established artists, reflecting the creativity found in the Southern climes.<br>
Duration:
1 hour
Priced From:
USD 20.90
The Espresso tour is just the pure essence of Dunedin, without the froth. From the soaring spires to the seedy underbelly, you'll see the sights and hear the stories in New Zealand's most fascinating and beautiful city. Born and bred Dunedinite! What could be better? How about a Dunedin's hippest spots to send you on your way.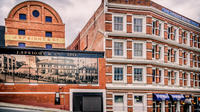 Duration:
90 minutes
Priced From:
USD 20.90
<p>Enjoy in 1,5-hour over 141 years of brewing history as the guides take you through the interactive brewery tour. Learn in a guided small group with a maximum of 10 travelers about all of the ingredients that go into the award-winning brews and hear about the state of the art brewing process used today. The tour ends with a tasting, where you'll get to enjoy samples of the beer as the knowledgeable guides talk you through the different styles and flavors in the range.</p>
Duration:
2 to 4 hours
Priced From:
USD 23.69
Visit New Zealand's only Castle, situated on the dramatic Otago Peninsula and only a 20 minute drive from Dunedin. Learn about the colonial history and stories of William Larnach - entrepreneur and politician, plus ongoing restoration by the Barker family. Experience the finest Victorian craftsmanship, the excellent collection of New Zealand antiques and unparalleled views of the Otago Peninsula. Walk in the gardens rated a garden of International significance by NZGT. Take refreshment in the historic Ballroom café serving the best local food and drink. This is for ticket admission only. Transportation, food, drinks, and other accommodations are not included.<br>... Read More
Duration:
8 hours
Priced From:
USD 31.36
The full-day trip, conducted by a historic double-decker bus has a great range of stops including Otago Museum, Baldwin Street, Dunedin Botanic Gardens and much more. Discover New Zealand's only castle and learn more about this beautiful city. It can be combined with others tours such as Cadbury World or the Speight's Brewery Tour. The tour starts and ends at Port Chalmer and includes the ticket admission for special attractions as well as commentary on the bus and 15 people are required at least.... Read More
Duration:
90 to 120 minutes
Priced From:
USD 34.84
This is without doubt the best viewing experience for Glow Worms in NZ. We are able to see the Glow Worms like stars in the sky and also are able to get close enough to see their webs and the Glow Worms laying horizontal at the top of their webs in wait of their prey.<br>Awesome photo opportunities are available. For the amateur photographer a cellphone is best but if you are a fully equipped 'professional' photographer then with a tripod and time lapse capabilities you will be able to capture some absolutely stunning pictures.... Read More
More Dunedin Airport Transfer & Airport Connection Options