Things To Do in Anchorage & Elmendorf AFB Airport Layover Ideas
Things to do in Anchorage if you have a Elmendorf AFB Airport Layover or Extended Elmendorf AFB Airport Stopover
If you have an extended layover at the Elmendorf AFB Airport or staying in town, why not consider getting out with some fun activities? We list a few here and there are many more on
Anchorage.LayoverIdeas.com
.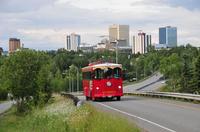 Duration:
60 minutes
Priced From:
USD 20.00
Travel by trolley through Earthquake Park and historic neighborhoods on this one-hour Anchorage tour. Take a comfortable seat in one of three regularly operating cable cars for sights such as seaplanes descending on Lake Spenard and Lake Hood, and moose (safely) crossing the road. Guides with family ties to the area provide unique insight into the local history and culture in Alaska's most populous city. Bonus: This budget-friendly tour comes with a complimentary coupon booklet with some $200 in travel savings. ... Read More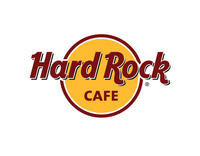 Duration:
Flexible
Priced From:
USD 32.49
Rock your senses with a prix-fixe menu at the Anchorage Hard Rock Cafe. Classic American cooking comes to the heart of Alaska, where you'll enjoy a 2- or 3-course meal with your choice of theme. Each option comes with a drink (coffee, tea or soda) and dessert. Expect entrees like the classic cheeseburger, a half-rack of hickory-smoked ribs, salmon, steak and even some vegetarian options. Love All - Serve All! <span class='vSpecial'><p>
Special Offer - Book with us and save 11% compared to another travel site! - Book Now!</p></span> ... Read More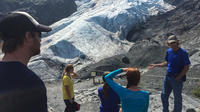 Duration:
2 hours 30 minutes
Priced From:
USD 35.00
This small-group walk is a great way to learn about the history of the famous natural wonder known as Exit Glacier. Walk alongside one of our knowledgable guides and learn about the glacier as we see it — a moving, massive organism left over from the last ice age.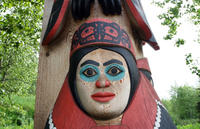 Duration:
Varies
Priced From:
USD 49.00
On this guided city tour, see top Anchorage attractions including Lake Hood, Bootleggers Cove, Earthquake Park and the Port of Anchorage. Enjoy views of the city and the Chugach Mountains from Flat Top Mountain, spot moose and other Alaskan wildlife, and upgrade to include a tour of the renowned Alaska Native Heritage Center, where you'll learn about Alaska's fascinating indigenous cultures.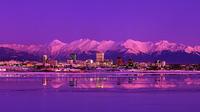 Duration:
2 hours
Priced From:
USD 49.00
Enjoy a 2-hour scenic city tour of Anchorage highlighted by stunning city views from atop the Chugach Mountains! Learn about Anchorage's colorful pioneer history, and visit Bootlegger's Cove and Lake Hood.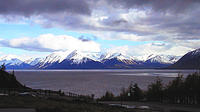 Duration:
3 to 4 hrs
Priced From:
USD 60.00
The best way to go from Anchorage to Whittier. Featuring live commentary and photo stops at Beluga Point and Portage Glacier. Also includes a 1 - 1.25 hour visit to the AK Wildlife Conservation Center to view Bears, Moose, Muskox, Caribou, and more.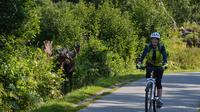 Duration:
2 hours
Priced From:
USD 60.00
Bike Anchorage's scenic Coastal Trail along the beautiful Cook Inlet with a local guide.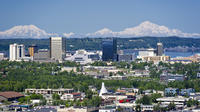 Duration:
3 hours
Priced From:
USD 69.00
Explore Anchorage with a native guide to discover the history and heritage of Alaska's largest city. Take in the view from Ship Creek and Point Woronzof, browse the goodies at Alaska Wild Berry Products and the knives at the ULU Factory, and admire native art at the ANMC. You will get to see most of Anchorage's popular sites in town including Alaska Wild Berry Products, Ship Creek, Earthquake Park, Point Woronzof, University of Alaska, the Ulu Factory, even the Alaska Native Hospital where you will see one of Alaska's largest collection of Native Art.... Read More
More Elmendorf AFB Airport Transfer & Airport Connection Options