Things To Do in Fairbanks & Eielson AFB Airport Layover Ideas
Things to do in Fairbanks if you have a Eielson AFB Airport Layover or Extended Eielson AFB Airport Stopover
If you have an extended layover at the Eielson AFB Airport or staying in town, why not consider getting out with some fun activities? We list a few here and there are many more on
Fairbanks.LayoverIdeas.com
.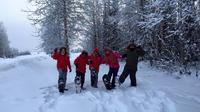 Duration:
Flexible
Priced From:
USD 45.00
Escape into the serene beauty of a natural winter wonderland at the Chena Lakes Recreation area with a multitude of trails beckoning.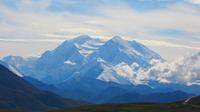 Duration:
3 hours
Priced From:
USD 80.00
This shuttle service is the fastest and the most economical way to transfer between Denali National Park and Fairbanks. Enjoy hassle-free transfers with pickup and drop-off at your hotel. Discover interesting facts and stories about Alaska along the way.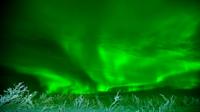 Duration:
5 hours
Priced From:
USD 95.00
Join us for a tour to Murphy Dome, one of the best Aurora Borealis viewing points near Fairbanks. Marvel at the beauty of the dancing Northern Lights and capture the photos you have been dreaming of.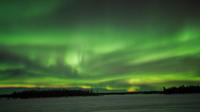 Duration:
Flexible
Priced From:
USD 95.00
Take advantage of this unique opportunity within the Interior of Alaska to witness our Aurora Godess dance and twirl high above your heads on a dark stary filled night sky. Be wisked away to the high top of an Alaskan mountain with superb viewing opportunities and world class views. Get up close and personal with the spirit of Lady Aurora! Witness our lady dance and shimmer across the midnite sky with colors that flitter and fold as she floats along. Enjoy a unique and once in a life time experience. With plenty of opportunity to view the aurora. Led by a local resident Alaskan guide this is surely not to disappoint.... Read More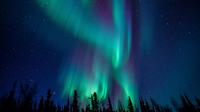 Duration:
5 hours
Priced From:
USD 95.00
Join us on our tour to one of the most famous Northern Lights viewing spots in and around, located north northwest of Fairbanks, Murphy Dome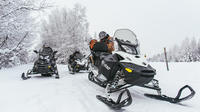 Priced From:
USD 99.00
Slip on your heated helmet and hit the gas--we are headed through Alaska's winter remote playground. This 1.5-hour guided tour takes place on the outskirts of North Pole where we will thunder across the famous Alaska Pipeline and zip through snow covered forests. We usually see some wildlife on every tour to include: Moose, Fox, Snowshoe Hares, Ptarmigan, Grouse, and squirrels. <br /><br />On this tour you will ride in style and comfort. Every snowmobile has heated handgrips, electric start, reverse and is designed for touring with a 2-rider capacity.... Read More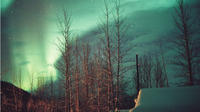 Duration:
6 hours
Priced From:
USD 105.00
<p>Your Aurora Borealis viewing night begins near your your Fairbanks accommodation. We will pick you up in a warm high-top van or tour coach. </p> <p> Let us take you outside Fairbanks and away from the city lights – wide open mountain top areas ensure a perfect view at Alaska's winter sky. Our guests will marvel at the beauty of the Alaskan Northern Lights and enjoy the stories of a local guide. Learn about the Aurora, winters in Alaska, and the history of Fairbanks.</p> <p>Bring your camera, extra battery, and a warm jacket, as we will be enjoying the peaceful quiet of a cold Northern Alaskan Night! When it is extra chilly head inside the warm Aurora Viewing Cabin/Lodge and enjoy hot cup of cocoa or tea. With your drink, pull up a chair, sit at the window or table, enjoy each others company and share tips about the best thing to do tomorrow.<br /><br /></p>... Read More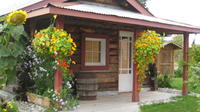 Duration:
5 hours 30 minutes
Priced From:
USD 105.00
Immerse yourself in Alaska's intriguing culture and history on this small-group or private tour in Fairbanks. Browse interesting art exhibits and installations at the Morris Thompson Cultural and Visitor Center and learn about the state's important heritage at the University of Alaska Museum of the North. Stop by the Yukon Quest Log Cabin for a glimpse into the Yukon Quest International Sled Dog Race and explore Pioneer Park (seasonal), featuring several museums and attractions that celebrate Alaska's many notable cultural, historical and economic hallmarks. <br />Choose from a small-group or private tour to ensure you'll receive personalized attention from your knowledgeable guide.... Read More
More Eielson AFB Airport Transfer & Airport Connection Options