Things To Do in Samana & Arroyo Barril Airport Layover Ideas
Things to do in Samana if you have a Arroyo Barril Airport Layover or Extended Arroyo Barril Airport Stopover
If you have an extended layover at the Arroyo Barril Airport or staying in town, why not consider getting out with some fun activities? We list a few here and there are many more on
Samana.LayoverIdeas.com
.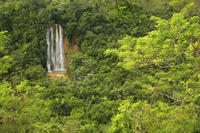 Duration:
4 hours
Priced From:
USD 49.99
This pleasant morning tour begins at a mountainside plantation, where you'll snack it up with tastings of just-made coffee, chocolate and honey, along with fine Dominican rum. Then explore the lush mountain scenery of El Limón National Park by horseback. Your trusty steed clops along the Arroyo Chico River and reaches the thundering El Limón Waterfall, a must-see for any visit to the Dominican Republic. Cool off with a swim in a natural pool before an open-air safari-style truck takes you back to your Samaná hotel.... Read More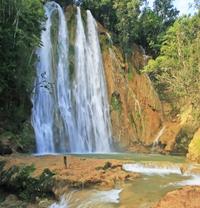 Duration:
5 hours 30 minutes
Priced From:
USD 52.99
Visit El Limón waterfall, one of the Samaná Peninsula's most popular natural attractions, on this half-day tour from Samaná. After a scenic drive through the rugged hilly interior of the peninsula, embark on a horseback ride from the town of El Limón to the waterfall, where you'll have free time to enjoy the scene and take a refreshing swim at the bottom of the falls. Round-trip transport from Samaná is included.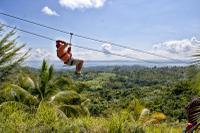 Duration:
5 hours
Priced From:
USD 75.00
Make like Tarzan and zipline through the rainforest canopy on the Samaná Peninsula. At the zipline course in Juana Vicenta, zoom down 10 ziplines strung along 20 different platforms. As you fly through treetops, take in amazing views of Samaná Bay, the pristine beaches of Cayo Levantado and Los Haitises National Park. Catch glimpses of woodpeckers, nightingales and other birds among the lush tropical vegetation. Refreshments and round-trip transport from most Samaná Peninsula hotels are included. ... Read More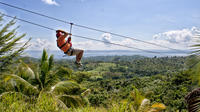 Duration:
4 hours
Priced From:
USD 75.00
Zipline from platform to platform and swing through the air with a privileged bird's eye view of the Cayo Levantado Isle, the Haitises National Park as well as the lush, tropical vegetation of the Juana Vicenta region. You will be safely attached with climbing gear to the cables with the longest one being 450 meters long.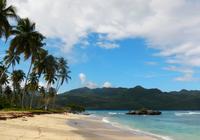 Duration:
8 hours
Priced From:
USD 84.99
Spend a relaxing beach day on one of the most beautiful stretches of sand in the Caribbean on this day trip to Rincon Beach (Playa Rincon) from Samaná. The jewel in the Samaná Peninsula's crown of gorgeous tropical sights, Playa Rincon is remote and takes a bit of effort to access, so make it easy on yourself with this convenient tour that includes round-trip hotel transport. You'll have about four hours on the beach to sunbathe and swim in the perfect turquoise sea. Lunch on the beach is included. ... Read More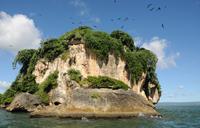 Duration:
8 hours
Priced From:
USD 90.00
Discover the wild, untouched and lush beauty of Los Haitises National Park, a protected forest sanctuary along the coast that includes dozens of tiny islands on San Lorenzo Bay. Meander by boat through mangroves and swamps teeming with crustaceans and reptiles, and ponder over petroglyphs in prehistoric caves where pirates once hid their bounty. Observe large numbers of brown pelicans, frigate birds and royal terns at Cayo de los Pájaros, and relax on a hammock on Cayo Levantado. Lunch and hotel transport from Samaná are included.... Read More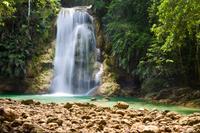 Duration:
8 hours
Priced From:
USD 93.99
Explore the Samaná Peninsula's rugged mountainous interior on this 4x4 Jeep tour to El Limón waterfall. While an experienced guide drives you through the rocky forest terrain, all you have to do is sit back and enjoy the ride. Stop by local attractions for a little insight into rural Dominican life, and enjoy a buffet lunch at a ranch. Then take a horseback ride to El Limón, where you can enjoy a refreshing dip at the bottom of the waterfall. Round-trip transport from Samaná is included. ... Read More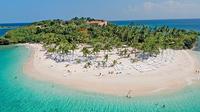 Duration:
8 hours
Priced From:
USD 95.00
<p>The Los Haitises National Park Preserve is a beautiful, untouched, lush rainforest area full of islands with tropical birds, mangroves and large caves. Then it's off across the Samana Bay. Enjoy the scenery of the Samana peninsula from a new vantage point that you don't get anywhere else. Arrive at the famous Cayo Levantado (or Bacardi Island as some know it due to the famous Bacardi comercial shot here in the 80's) for the afternoon. After delicious healthy lunch, enjoy the beach till we leave around 4 to 4:30 pm.</p>... Read More
More Arroyo Barril Airport Transfer & Airport Connection Options