Things To Do in Fajardo & Diego Jimenez Torres Airport Layover Ideas
Things to do in Fajardo if you have a Diego Jimenez Torres Airport Layover or Extended Diego Jimenez Torres Airport Stopover
If you have an extended layover at the Diego Jimenez Torres Airport or staying in town, why not consider getting out with some fun activities? We list a few here and there are many more on
Fajardo.LayoverIdeas.com
.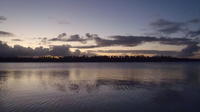 Duration:
2 hours
Priced From:
USD 53.52
Come on the only tour that has a marine biologist as your tour guide. They will explain all the processes involved and the unique conditions required for this supernatural phenomena to occur. Your marine biologist will also explain how this delicate ecosystem maintains a pure balance and what must be done to preserve and protect the Bio Bay "Laguna Grande.' It is a very special place on Planet Earth! All gear, snacks, pictures and kayak lessons are included.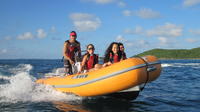 Duration:
3 hours 30 minutes
Priced From:
USD 72.48
Experience the snorkeling adventure of a lifetime as you pilot your own 13-foot inflatable mini speedboat along the protected white sand cays of Puerto Rico's eastern coast! With a certified guide leading the way, follow the mini boat convoy across the beautiful crystal clear waters of Fajardo stopping at a selection of some of the most beautiful islands in the Puerto Rican Archipelago. Discover the wonders of 'La Cordillera' Cays Nature Reserve, and enjoy a guided snorkeling experience you will never forget!... Read More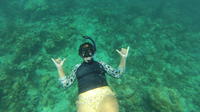 Duration:
3 hours 30 minutes
Priced From:
USD 76.94
Snorkelers will have the magnificent opportunity to visit beautiful island locations used as a backdrop to several movies, such as Pirates of the Caribbean. These islands host crystal clear water beaches and wonderful shallow reefs to snorkel. Within a 3.5 hour trip you will be able to search for stingrays, explore beautiful beaches and snorkel over vibrant coral reefs. All snorkeling equipment, water, refreshments and snacks are included.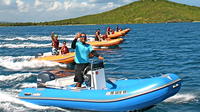 Duration:
3 hours 30 minutes
Priced From:
USD 80.28
Experience the snorkeling adventure of a lifetime as you pilot your own 13-foot inflatable mini speedboat along the protected white sand cays of Puerto Rico's eastern coast! With a certified guide leading the way, follow the mini boat convoy across the beautiful crystal clear waters of Fajardo stopping at a selection of some of the most beautiful islands in the Puerto Rican Archipelago. Discover the wonders of 'La Cordillera' Cays Nature Reserve, and enjoy a guided snorkeling experience you will never forget!... Read More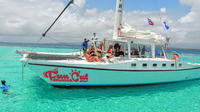 Duration:
6 hours
Priced From:
USD 83.63
<p>Enjoy a day out on the water in Fajardo! Sway to the sound of island music as you sail along the white sand, clear water cays of La Cordillera Nature Reserve. This 6-hour tours includes professionally guided snorkeling, an amazing 51' custom built catamaran, and a sumptuous lunch buffet with unlimited refreshments and Caribbean rum drinks!</p>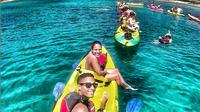 Duration:
10 hours
Priced From:
USD 88.09
<p>Without a doubt, the Aquafari Culebra is one of our most impressive excursions with the clearest waters, pristine beaches and a variety of sea life that will amaze you! Paddle your way along Puerto Rico's kayaking and snorkeling mecca: the world famous waters and white sand coastlines of Culebra Island.</p>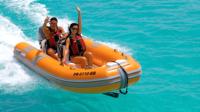 Duration:
3 hours 30 minutes
Priced From:
USD 94.78
Experience the snorkeling adventure of a lifetime as you pilot your own 13-foot inflatable mini speedboat along the protected white sand cays of Puerto Rico's eastern coast! With a certified guide leading the way, follow the mini boat convoy across the beautiful crystal clear waters of Fajardo stopping at a selection of some of the most beautiful islands in the Puerto Rican Archipelago. Discover the wonders of 'La Cordillera' Cays Nature Reserve, and enjoy a guided snorkeling experience you will never forget!... Read More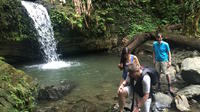 Duration:
7 hours
Priced From:
USD 99.00
Let the serene, natural beauty of El Yunque Rainforest captivate you on this 7-hour tour. Breathe in the fresh, clean air and observe up close the lush vegetation, flowing rivers, tropical flora and fauna and scenic views while walking with a certified guide. Hotel/port transportation and bottled water included