Things To Do in El Calafate & El Calafate Airport Layover Ideas
Things to do in El Calafate if you have a El Calafate Airport Layover or Extended El Calafate Airport Stopover
If you have an extended layover at the El Calafate Airport or staying in town, why not consider getting out with some fun activities? We list a few here and there are many more on
El-Calafate.LayoverIdeas.com
.
Duration:
1 to 4 hours
Priced From:
USD 11.00
The CIC travel 100 million years of nature and human history in Patagonia. The montage of dinosaurian and mega mammal illuminate the show of the evolution that this region was. Videos, photos and audios are to understand and remember the genocide of Aonikenk people and the Patagonics strikes. Re-discover the Tehuelche culture understanding the process of large duration. Immerse in five halls powered of solar energy were the past speck.<br>
Duration:
3 hours
Priced From:
USD 45.00
Get under the skin of El Calafate and see the ancient rock paintings of Patagonia's earliest settlers on this 3-hour sightseeing tour. Traveling in an air-conditioned coach, drive to the shores of beautiful Lake Argentino to visit the Walichu Caves, home to rock paintings believed to date back 4,000 years. Next, enjoy a panoramic tour of El Calafate Old Town, look for flamingos and other birds on Laguna Nimez, and visit the El Calafate Historical Interpretation Center to learn about the area's incredible history, geology, peoples and glaciers.... Read More
Duration:
1 hour
Priced From:
USD 50.00
Add to your visit to Perito Moreno Glacier, a great boat navigation to enjoy the glacier from the Argentino Lake
Duration:
7 hours
Priced From:
USD 55.00
Excursion to Los Glaciares National Park, declared a World Heritage Site by UNESCO. On this visit there will be a short walk along the walkways and balconies, to contemplate the greatness of the Perito Moreno Glacier.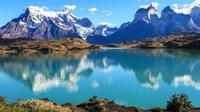 Duration:
5 hours
Priced From:
USD 56.00
Bus ticket from El Calafate to Puerto Natales (Chile)
Duration:
3 hours
Priced From:
USD 63.00
Embark on a 4x4 adventure in Calafate Mountain Park, taking in the spectacular scenery of Los Glaciares National Park as you ride to the Calafate Balcony. This summer excursion (October to April) offers Patagonia's best views of glacial Argentine Lake (Lago Argentino) and the Andes mountain range from an all-terrain vehicle. Accompanied by a driver-guide, you'll watch condors soar above as you admire Mt Fitz Roy, Mt Torre and El Chaltén. Snack and round-trip hotel transport are included.
Duration:
8 hours
Priced From:
USD 70.00
Enjoy a full day tour to one of the most incredible highlights in Patagonia and South America, the Perito Moreno Glacier, with enormous blocks of ice falling into the lake with a thonderous crash!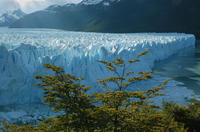 Duration:
2 hours 30 minutes
Priced From:
USD 70.60
Enjoy a guided city tour of El Calafate and learn about the history, culture and people of Patagonia. Stroll through the streets of this historic town, study the unique architecture and take in magnificent views of the endemic flora and fauna. You'll also take part in birdwatching, visit an orchard and pass by archeological sites.
More El Calafate Airport Transfer & Airport Connection Options