Things To Do in Khajuraho & Khajuraho Airport Layover Ideas
Things to do in Khajuraho if you have a Khajuraho Airport Layover or Extended Khajuraho Airport Stopover
If you have an extended layover at the Khajuraho Airport or staying in town, why not consider getting out with some fun activities? We list a few here and there are many more on
Khajuraho.LayoverIdeas.com
.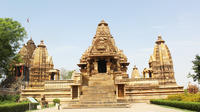 Duration:
4 hours
Priced From:
USD 24.00
As one of the most popular attractions in North India, the city of Khajuraho deserves the name of 'Symbol of Medieval Heritage'. It encases the largest group of medieval Hindu and Jain temples, famous for their erotic sculptures that present distinction in artistry and eminence in architectural style.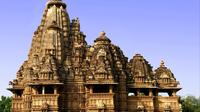 Duration:
8 hours
Priced From:
USD 29.00
Enjoy the services of your local expert guide to explore the Khajuraho Kamasutra Temples on a private 8 hour Tour. Your personal guide will assist you to plan your day in Khajuraho to suit your interests. Private Chauffeur, air conditioned car, fuel, parking, taxes and surcharge are included.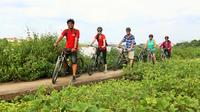 Duration:
3 to 4 hrs
Priced From:
USD 32.00
Enjoy the endless beauty for central India countryside when you ride a cycle to the stunning teeth mountain from Khajuraho. Your personal local guide ensure to take you to the best spots while shearing the stories from local village and cultural life.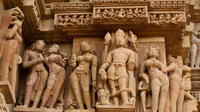 Duration:
3 hours
Priced From:
USD 35.00
<p>Khajuraho is a town in the Indian state of Madhya Pradesh, located about 385 miles southeast of New Delhi. Khajuraho has the country's largest group of medieval Hindu and Jain temples, famous for their erotic sculptures. The Khajuraho Group of Monuments has been listed as a UNESCO World Heritage Site since 1986 and is considered one of the 'seven wonders' of India. The monuments in this area are divided into three groups: Eastern, Western and Southern. Today we will be visiting the eastern group of temples. </p> <p><b>Highlights</b></p> <ul> <li>Parsvanath Temple</li> <li>Adinatha Temple</li> <li>Ghantai Temple</li> <li>Brahma Temple</li> </ul>... Read More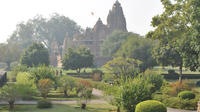 Duration:
5 hours
Priced From:
USD 35.00
<p>Explore Khajuraho with your guide half day tour covering Kandariya Mahadeo, Chaunsath Yogini, Chitragupta Temple, Vishwanatha Temple, Lakshmana Temple, Matangeshwara Temple In Western Side. Parsvanatha Temple, Ghantai Temple, Adinatha Temple siuated in Eastern Zone. all aspects of the treasure of passion and erotic fantasy to the world.</p>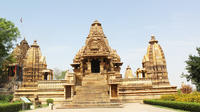 Duration:
3 hours
Priced From:
USD 35.00
Experience the grandeur and splendor of Chandela king's story, learn about the 10th Century to the present day during the 50-minute show in English, view exclusive temples, and attend the light and sound show at the famous Western Group of temples complex.<br /><br />A maximum of 8 people per booking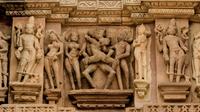 Duration:
4 hours
Priced From:
USD 38.00
<p>Khajuraho is a town in the Indian state of Madhya Pradesh, located about 385 miles southeast of New Delhi. It has the country's largest group of medieval Hindu and Jain temples, famous for their erotic sculptures. The Khajuraho Group of Monuments has been listed as a UNESCO World Heritage Site since 1986 and is considered one of the 'seven wonders' of India. The monuments in this area are divided into three groups: Eastern, Western and Southern. Today we will be visiting the Western group of temples. The western complex of the Khajuraho group of temples houses the most important temples in Khajuraho.</p> <p><b>Highlights</b></p> <ul> <li>Kandariya Mahadeva Temple</li> <li>Devi Jagdamba Temple</li> <li>Lakshmana Temple</li> <li>Chitagupta Temple</li> <li>The Chausath-Yogini Temple</li> </ul>... Read More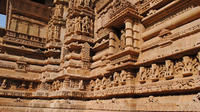 Duration:
8 hours
Priced From:
USD 38.00
<p>Explore Full Day Khajuraho, Temple town of Khajuraho is much different from any other temple city of India., Visit such places as the Kandariya Mahadeo, Chaunsath Yogini, Chitragupta Temple, Vishwanatha Temple, Lakshmana Temple, Matangeshwara Temple In Western Side. Parsvanatha Temple, Ghantai Temple, Adinatha Temple situated in Eastern Zone. Duladeo Temple &amp; Chaturbhuja Temple in Southern Zone<strong> </strong>all aspects of the treasure of passion and erotic fantasy to the world.</p>... Read More
More Khajuraho Airport Transfer & Airport Connection Options