Things To Do in Mumbai & Mumbai Central Train Station Layover Ideas
Things to do in Mumbai if you have a Mumbai Central Train Station Layover or Extended Mumbai Central Train Station Stopover
If you have an extended layover at the Mumbai Central Train Station or staying in town, why not consider getting out with some fun activities? We list a few here and there are many more on
Mumbai.LayoverIdeas.com
.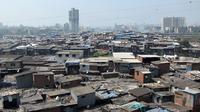 Duration:
3 hours
Priced From:
USD 8.00
Get a insider look at slum life in Mumbai on this 3-hour walking tour. Make your way through the streets of Dharavi to witness a hidden side of urban India and get a new perspective on city life in one of India's, and the world's, largest cities. You will witness the community life that exists beyond religion and wealth.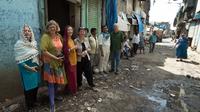 Duration:
3 hours
Priced From:
USD 10.00
Visit Dharavi slum with a local guide on a 3-hour, private tour of the impoverished Mumbai neighborhood that's considered one of the world's largest slums. Get personal insight into daily life in Dharavi by exploring with a local, and see how slum residents use innovation and creativity to survive in a challenging environment.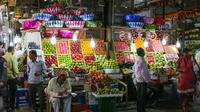 Duration:
3 hours
Priced From:
USD 12.00
If you enjoy exploring new places, try this walking tour of the 'native' bazaar areas of Mumbai. You'll be fascinated by the vibrant street markets, the colourful people, the multi-cultural mix of mosques, temples and derasars, the different cuisines, and the sheer throbbing energy of the place.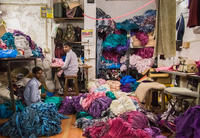 Duration:
Varies depending on tour chosen
Priced From:
USD 12.75
Take a walking tour of the Dharavi slum on this unique exploration in Mumbai. Follow a guide through Dharavi's narrow alleyways, where you're introduced to local residents and their small-scale industries — recycling, ceramics, embroidery, soap making and more — all manufactured by innovative means. Travel on your own or by rail with a guide, or upgrade to include round-trip transport by air-conditioned vehicle and see points of interest along the way. Numbers are limited to six people, ensuring an informative experience with a small group. Proceeds from your local tour operator goes back into the local community to support a variety of projects on education, health, and livelihood.... Read More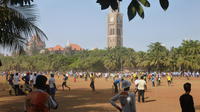 Duration:
3 hours
Priced From:
USD 13.75
<p>Explore Colaba and South Mumbai on this 3 hour walking tour! The Colaba area is home to many historical buildings and a variety of architecture. Starting from Regal Cinema, you will walk along the main sights of this wonderful city with your Mumbaikar guide. Enjoy meandering through the quiet lanes of the Kala Ghoda and Fort as well as interacting with locals and enjoying traditional snacks. This tour ensures that you will not only see the major landmarks, but the lesser known areas that are not to be found in the guidebooks.</p>... Read More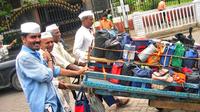 Duration:
4 hours
Priced From:
USD 16.50
They say when in Rome do as the Romans do, same applies to Mumbai. This is an off-beat 4-hour tour where you will see Mumbai from a wide angle, a variety of places to visit with the mode of travelling will be walking and public transport. You will see the historic sites with their relevant Gothic architecture, the cultural side of Mumbai where you will see people offering their prayers and morning rituals, as well as feeding the cows as a kind gesture toward them. You will also take a local train ride, however you need not worry about the crowds as you will be traveling on non-busy routes. Visit places such as the Gateway of India, Flower Market, Dhobighat and CST train station. It's like serving Mumbai on a plate.... Read More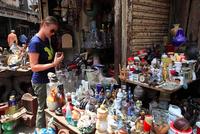 Duration:
2 hours 30 minutes
Priced From:
USD 16.50
Experience the day-to-day market life of Mumbai on this 2-hour walking tour. A local guide accompanies you through several historical markets of South Mumbai for an authentic glimpse of India's vibrant streets — from Colaba to Bhuleshwar. Follow on foot through narrow alleyways and past colonial buildings, with a stop at Mumbadevi Temple. Observe street vendors selling everything from spicy snacks to colorful flowers and clothing. Numbers are limited to 7 people, ensuring an intimate experience with a small group.... Read More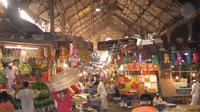 Duration:
2 hours 30 minutes
Priced From:
USD 18.00
<p>Visit Mumbai's markets with a local on a 2.5-hour, private shopping tour that can be customized to your interests. Browse the colorful stalls at five local markets, with a few stops for sightseeing in between, and enjoy insider tips on the best things to taste, buy, and experience while in Mumbai.</p>