Things To Do in Ipoh & Sultan Azlan Shah Airport Layover Ideas
Things to do in Ipoh if you have a Sultan Azlan Shah Airport Layover or Extended Sultan Azlan Shah Airport Stopover
If you have an extended layover at the Sultan Azlan Shah Airport or staying in town, why not consider getting out with some fun activities? We list a few here and there are many more on
Ipoh.LayoverIdeas.com
.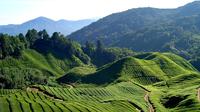 Duration:
3 hours 30 minutes
Priced From:
USD 10.90
Country side tour is a half day free and easy trip to the wonderful and famous hill station in Cameron Highlands. The journey begins with small briefing about the places to visit when in the Highlands.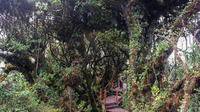 Duration:
3 hours 24 minutes
Priced From:
USD 19.80
The mossy forest is a natural environment that grows only at the highest elevations of Cameroon Highlands and other mountain ranges across Malaysia. At such heights,low-level clouds in the sky driven by winds, blanket the forests with constant mist and moisture - creating an ideal biotope for moss,ferns,lichen and orchids. This moist tropical evergreen forest is also a rich repository for a varied set of montane creatures.encompassing insects,snakes,frogs,birds and mammals unique to this chilly atmosphere.Visitors can explore the mossy forest through a boardwalk 2km before the peak of Gunung Brinchang, begining from a clearing along the main road.... Read More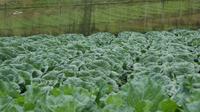 Duration:
3 hours 30 minutes
Priced From:
USD 30.90
At Cameron Highlands Vegetable Farm where we can see using our own eyes how vegetables are grown. Actually, that's what this tour is all about; agriculture which would likely be interesting and educational for city dwellers.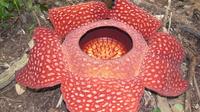 Duration:
8 hours
Priced From:
USD 44.20
An interesting full day program, where you will be amazed to see the largest flower in the world. It has been always a rare privilege to see the bloom due to Rafflesia's unusual flowering habit. These giant flowers will last only 5 to 7 days. Somethings there won't be any blooms for many months.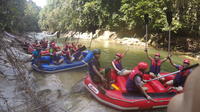 Duration:
4 hours
Priced From:
USD 60.00
This thrilling white-water rafting adventure includes waterfall abseiling in the Gopeng Rainforest, a premier destination for river rafting. Splash through the rapids of the Kampar River while accompanied by a river guide. Safety gear, paddling instruction, and lunch are all provided, with round-trip transport from Gua Tempurung or the Gopeng Museum.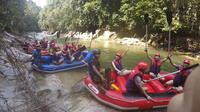 Duration:
7 hours
Priced From:
USD 135.00
Visit one of the hottest destinations for rafting and picnicking on this full-day Gopeng Rainforest white water rafting trip. Enjoy a thrilling adventure through the rapids of the beautiful Kampar River. Take lorry transportation along scenic Kampung Road to the starting point, and savor a delicious picnic lunch in the rainforest.