Things To Do in Kingscote & Kingscote Airport Layover Ideas
Things to do in Kingscote if you have a Kingscote Airport Layover or Extended Kingscote Airport Stopover
If you have an extended layover at the Kingscote Airport or staying in town, why not consider getting out with some fun activities? We list a few here and there are many more on
Kingscote.LayoverIdeas.com
.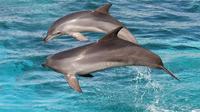 Duration:
75 minutes
Priced From:
USD 55.57
<strong>75 MIN Ocean Safari - </strong>Travel stunning ancient coastline, viewing dolphins, seals, eagles and birdlife along the way. The guide provides informative local history. Fun for the whole family. This Safari departs daily from Christmas Cove Marina, Penneshaw and is a must do experience on the island.
Duration:
3 hours
Priced From:
USD 64.96
Venture out with a local guide to experience a very different kind of 'nightlife' - the sights and sounds of Kangaroo Island after dark.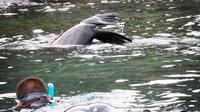 Duration:
2 hours
Priced From:
USD 108.26
2 Hour Swim nearby Dolphin / Seal & Coastal Snorkeling Safari departs from Christmas Cove Marina, Penneshaw. Have the opportunity to swim nearby wild dolphins or seals and snorkel some of KI's beautiful coastline. It's a great wildlife watching tour! We provide wetsuits, mask, towels, snorkel, and fins. Arrive at Christmas Cove Marina in Penneshaw 30 minutes prior to departure. You will be fitted into the appropriately sized wetsuit, mask, snorkel, and flippers as well as be provided with a safety brief. Then jump on board our 12 seater vessel in search of the marine life that inhabits the stunning coastline. Seals often become very active which provides a unique snorkeling experience. KI Ocean Safari is the only operator in South Australia that provides the opportunity to swim nearby the Long-Nosed Seals. Also, have the opportunity to swim alongside dolphins in the wild. The guide will also provide an informative commentary along the way.... Read More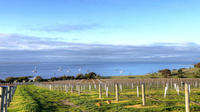 Duration:
8 hours
Priced From:
USD 111.87
Kangaroo Island has plenty to offer everyone. Visit one of the island's vineyards, three of the island's popular gourmet food outlets and The Lavender Farm.<br />
Duration:
7 to 8 hours
Priced From:
USD 119.09
We are a family owned and operated business and endeavour to give you an experience that you will remember. We offer value for money and offer the same tours as what you can purchase on board the ship but at a much cheaper price. We work in with the cruise ship on the day and depart and return as necessary. We aim to depart between 08:30am-09:00am and return between 4:00pm-4:30pm unless otherwise directed by the Captain on the day.
Duration:
5 hours
Priced From:
USD 119.09
This is a half day food and wine tour designed for those with limited time on Kangaroo Island. Pick ups are available from the airport. Visit Clifford's Honey where you can taste the different varieties of honey, Emu Ridge Eucalyptus Distillery and learn about how the eucalyptus oil is distilled, Island Pure Sheep Dairy to taste the cheeses and yoghurts, Islander Estate for a wine tasting and cheese platter before heading to Kangaroo Island Spirits for a gin, vodka and liqueur tasting.
Duration:
4 hours
Priced From:
USD 184.04
Travel in a comfortable 4WD to visit the Dudley Peninsula, Pennington Bay, Eucalyptus Distillery and Honey Farm. Stop to visit a winery or two if interested in local wines. You will have an experienced tour guide and with their experience you will be able to observe the wildlife in their natural habitat.
Duration:
8 hours
Priced From:
USD 205.70
Discover Kangaroo Island, its natural attractions and local animals, sights include Seal Bay Conservation Park, Vivonne Bay, Remarkable Rocks, Flinders Chase National Park, Admirals Arch and Hanson Bay. Spot wallabies, echidnas, fur seals, koalas and, of course, kangaroos.
More Kingscote Airport Transfer & Airport Connection Options