Ocho Rios Airport (OCJ) Shuttle Transfers
Shared Ocho Rios Airport Shuttle Transfers

We have 3 shared shuttle transfer options

, including transfers between airports, ports, train stations, tourist attractions and popular destinations. Click any option below for details and to compare features and pricing (all will open in a new tab). If you have any questions or would like to customize any Ocho Rios Airport transfer listed,

then please contact us

.

To ensure availability, we strongly recommend booking our transfer services at least 48 hours prior to your scheduled arrival or departure. Ocho Rios Airport private transfer options are also available

.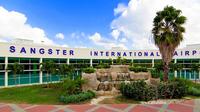 Shuttle (Private Transfer) from USD 80
Travel in Jamaica like a VIP, with round trip pick up from the Donald Sangster International Airport in Montego Bay and drop off at your hotel or villa. No waiting in lines for taxis or delayed pick ups, travel in an air conditioned bus, where you will relaxed and enjoy a free beverage enroute to your hotel or villa. Enjoy the ease of hustle and bustle of traveling, lets make your trip to Jamaica comfortable and relaxing.




This transfer service runs to various destinations, please see the transfer details for destinations served and pricing | Shared shuttle transfer FAQ's
Shuttle (Private Transfer) from USD 50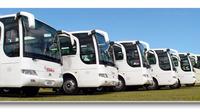 Shuttle (Private Transfer) from USD 35
Shared Shuttle bus transfer from Sangster's International Airport, Montego Bay to the Ocho Rios area in our air-conditioned coaches. All our drivers are professionals with years of experience. You will be met by our friendly Airport Dispatchers at desk 14 after customs, who will guide you to the correct bus. Whether you are staying in a large hotel or a smaller guest house we can get you there and drop you right outside the entrance. All our vehicles are... Read More




This transfer service runs to various destinations, please see the transfer details for destinations served and pricing | Shared shuttle transfer FAQ's
More Ocho Rios Airport Transfer & Airport Connection Options