Things To Do in Shenzhen & Shenzhen Airport Layover Ideas
Things to do in Shenzhen if you have a Shenzhen Airport Layover or Extended Shenzhen Airport Stopover
If you have an extended layover at the Shenzhen Airport or staying in town, why not consider getting out with some fun activities? We list a few here and there are many more on
Shenzhen.LayoverIdeas.com
.
Duration:
2 hours
Priced From:
USD 23.00
Come try your hand and learn something about the legendary martial art of WingChun Kungfu. Four hours to see, learn, feel and practice something wonderful! Gary, the HongKongnese Wing Chun instructor, is experienced in teaching Wing Chun Kungfu using English, so you don't need to worry about the language barrier is an issue. He has been a professional instructor for many years and has taught students from all over the world. I know how to adjust my teaching style to people with different backgrounds and levels of ability.... Read More
Duration:
1 to 2 hours
Priced From:
USD 27.50
Follow our local guide and head towards Shekou Old Street to taste ten dishes at night! The best street food ever! <br>Note: The tourist route should not be less than 2 persons , or it will be cancelled automatically . <br>The plan<br>Start: meet me at Dongjiaotou Station<br>Stop 1: Niujiazhuang—a very popular small restaurant for beef lovers<br>Taste 1: Rice noodles with sirloin<br>Taste 2: Satay Lo Mein<br>Stop 2: Jiahua Snacks Shop<br>Taste 3: Rice dumplings with seafood<br>Taste 4: Rice dumplings with meat, egg, and mushroom<br>Taste 5: Siu Mei soup rice<br>Taste 6: Steamed rice rolls<br>Stop 3: Baicaotang<br>Taste 7: Guiling Jelly<br>Taste 8: Double-skin milk<br>Taste 9: Sesame Paste<br>Taste 10: Mango and coconut milk tapioca pudding... Read More
Duration:
8 hours
Priced From:
USD 30.69
Xiaomeisha Beach is one of the most beautiful beaches in Shenzhen with palm trees swaying over a white-sand beach, lush tropical plants, and the water front boardwalk built on shoreline cliffs making it famous both at home and abroad. The shore of Xiaomeisha Beach is surrounded by several adjacent coral islets that keeps waves relatively calm. The water in Xiameisha is always postcard-perfect for you to enjoy. You have the option to choose same day return or next day return if you wish to stay overnight at the beach. This tour does not include a guide.... Read More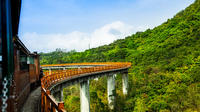 Duration:
8 hours
Priced From:
USD 30.73
Experience Shenzhen's famous OCT East Theme Park, the best theme park in Shenzhen. This combo ticket offers all rides, attractions, dance show, and an European Style village where you could spend most of your day! This discount ticket is prepaid paper ticket. Price is inclusive of hotel delivery in Mainland China by SF express 24 hours prior of your tour day. A great deal sponsored by the OCT East Theme Park, with 40% off and only can be purchased by foreign citizens only.<br /><br />Option 1: Ticket Only<br />Ticket is prepaid paper ticket. It will be delivered to your hotel in Mainland China by SF express 24 hours prior of your tour day. You must provide your hotel information upon booking.<br /><br />Option 2: Ticket + 2-Way Transfers<br />Pickup from hotels in Shenzhen only for a private transfer. Pickup time is 08:30 daily and you will arrive back to your hotel at about 18:00. <span class='vSpecial'><p>
Special Offer - Save up to 50% when you book 2 tickets or more at the time - Book Now!</p></span> ... Read More
Duration:
2 hours
Priced From:
USD 31.25
Join a local family for an authentic Cantonese cuisine dining experience during your stay in Shenzhen. A selection of up to 8 dishes of main course is selected for your choice including soup and delicious desserts. You may also watch and learn how to prepare Cantonese cuisine while the cook is preparing your dinner!
Duration:
8 hours
Priced From:
USD 39.00
You will still get the full Shenzhen experience as me have that all important Shenzhen cabbie knowledge. So whether you need to beat the traffic or need some ideas of what to see and do then you are in safe hands. While you are sure to know of the many sights thatShenzhen has to offer.
Duration:
5 hours
Priced From:
USD 45.32
Treat yourself to this 5-hour coach tour exploring the city of Hong Kong and its attractions. This tour offers daily hotel pickup from major hotels in the central and eastern areas of Hong Kong Island. You will go to Sky Terrace on the summit of Victoria Peak and enjoy a Peak Tram ride. In addition, you will visit Aberdeen Fishing Village, Tse Sui Luen Jewellery Factory and Stanley Market.
Duration:
8 hours
Priced From:
USD 49.00
Hope you are doing well! I am an enthusiastic, professional and experienced Tour guide/driver. I have been serving my customers from all over the world for more than 5 years and I enjoy doing this job as much as I did from day one. Being very fluent and eloquent in both English and Chinese, I am able to enhance communications and solve problems for customers so that they can have an effective and enjoyable trip in China no matter it's for business or tourism. I always get positive feedbacks for my service because I sincerely care about each of my clients and have always been responsible for them and their business. Being helpful for my clients gives me a great sense of achievement and that's what keeps me moving. I can assure you that you can totally count on me! <br>I love the variety of cultures. Meeting people around the world is fascinating, I heard different interesting stories all the time, and now I look forward to listening to yours.... Read More
More Shenzhen Airport Transfer & Airport Connection Options