Things To Do in Zadar & Zadar Airport Layover Ideas
Things to do in Zadar if you have a Zadar Airport Layover or Extended Zadar Airport Stopover
If you have an extended layover at the Zadar Airport or staying in town, why not consider getting out with some fun activities? We list a few here and there are many more on
Zadar.LayoverIdeas.com
.
Duration:
1 day
Priced From:
USD 6.26
The name Paklenica probably derives from black pine sap called "paklina", which the locals used in traditional medicine, for wound treatment, for light and for coating of wooden boats.<br>
Duration:
1 hour
Priced From:
USD 9.26
If a picture is worth a thousand words, be sure that an illusion hides more than a million! Come and explore the world of illusions. Experience the impossible. Be sure your camera is fully charged with memory space before you visit. By all means take your camera with you.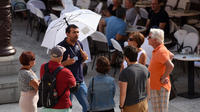 Duration:
100 minutes
Priced From:
USD 16.20
<ul> <li>We're pleased to offer the perfect city walk: an informative and leisurely walk, in a small-group setting, for a reasonable price which also includes free Maraschino liqueur and Pag cheese tasting.</li> <li>Walking along Zadar's streets the guide will show you the entire spectrum of monuments and hidden corners, taking you into the past more than 3000 years. </li> <li>By retelling the stories and legends you will feel the pulse of the town from the past and today's everyday living. </li> <li>Best of all, you can be sure that our guides are not only professionally licensed, but also friendly locals who will enjoy showing you "the Pearl of the Adriatic".</li> <li>Long after leaving Zadar, you'll remember your Zadar Walking Tour.</li> </ul>... Read More
Duration:
3 hours
Priced From:
USD 20.25
Meet the 15th century Renaissance city of lace and salt, which have legacy of ancient times, Austrians, Venetians, French and so on. In addition to cultural monuments and gastronomic specialties, Pag offers you a completely different nature experience.
Duration:
2 hours 30 minutes
Priced From:
USD 20.25
Discover the cultural and historical heritage of the Island of Pag during this 2.5-hour cycle tour with an art historian guide. Pedal through the island's old town to admire ancient churches dating from the 12th century before exploring Pag's historic 'Salt Road' and stopping at scenic overlook. Finish by soothing your weary muscles with a mud bath along the island shoreline.
Duration:
4 hours
Priced From:
USD 20.25
Trek to the highest peak of Pag island and experience the beautiful nature of the island with a view from above. Enjoy this 4-hour tour with approximately 2.5 hours of hiking with your personal guide on this hike tour. Learn about the importance of the history of the area and make your way to the top of St. Vitus. Travel in comfort with included hotel pickup and drop-off.
Duration:
3 hours
Priced From:
USD 20.25
Take an 'otherworldly' trip to explore the mysterious Pag Triangle during this 3-hour trekking adventure. Hike through a rocky area on the island's north to reach this puzzling geometric rock formation, learning about the UFO-themed theories behind its creation. Transport to the hiking site from your hotel in the city of Pag is included.
Duration:
4 hours
Priced From:
USD 27.77
· Greeting to the Sun<br>· Sea Organs<br>· St. Donatus church<br>· Ancient Forum<br>· Cathedral of St. Anastasia<br>· People's square<br>... Read More
More Zadar Airport Transfer & Airport Connection Options