Things To Do in Rennes & Rennes Airport Layover Ideas
Things to do in Rennes if you have a Rennes Airport Layover or Extended Rennes Airport Stopover
If you have an extended layover at the Rennes Airport or staying in town, why not consider getting out with some fun activities? We list a few here and there are many more on
Rennes.LayoverIdeas.com
.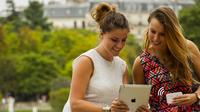 Duration:
15 days
Priced From:
USD 41.66
You will get the best solution to get the internet throughout your trip in France, with the rental of a personal WiFi hotspot, also called 'Pocket WiFi' or 'MiFi'! You book it before your trip and receive it at your hotel or rental flat everywhere in France. At the end of your rental, you simply return it with the prepaid envelope included.<br /><br />The easiest and cheapest way to get on the internet here in Rennes. Avoid the frustration of hotel WiFi that is slow and often doesn't work, forget about loosing your contacts and the limits of a French sim card: you own a personal and password protected unit, with unlimited and shareable data.... Read More
Duration:
3 hours
Priced From:
USD 195.55
On this 3-hour walking tour, you will explore the historical center of Rennes in a traditional and authentic way with a guide who shares with you the history of its iconic monuments (Justice center, city hall, opera...) and shows you interesting places around the city. You will also visit the Thabo garden, get off the beaten track and go through cobbled streets where you find the best local restaurants and coffe places in town, plus receive insider tips about the area if you plan on spending more days either in Brittany or Normandy.<br>If you want to shop, your guide will tell you where you can exactly find great local shops for souvenirs and local handicrafts.... Read More
Duration:
5 hours
Priced From:
USD 520.70
Take High Speed train from Paris and meet your multilingual driver in Rennes station, hotel or meeting location.<br>You will be driven in luxury vehicles with wifi and charger plug on board.<br>Ask all the information to your driver and you will have all the keys to enjoy the best the wonder of the Western France.<br>You will be driven 1 hour from Rennes to Mt st-Michel, then have 3 hours time to explore the abbey church and the village.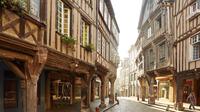 Duration:
9 hours
Priced From:
USD 798.40
Take a seat in one of our <strong>comfortable and air-conditioned minivan Mercedes</strong>, and let yourself be driven by a <strong>professional and local driver</strong>. <br>Discover the medieval town of <strong> Dinan</strong>, the port of <strong>Cancale</strong>, and the corsair city of <strong> Saint-Malo</strong>. <br>This tour of 9 hours is offered from <strong>Rennes</strong> with a return to <strong>Rennes</strong>. <strong><br><br></strong> <u>Important: our drivers are not guides and therefore do not provide guidance on sites</u>. <strong><br></strong>... Read More
Duration:
5 hours
Priced From:
USD 798.40
On this private day trip you will have the change to discover the islet, celebrated for its Benedictine abbey, with its small houses and shops on its lowest level. The site of Mont Saint-Michel is crowned by the abbey's church, about 240 feet above sea level. You will have a private guided tour of the village and the abbey church. There will also be some free time before heading back to Saint-Malo.
Duration:
10 hours
Priced From:
USD 879.40
You are in Paris and wish to go to Mont Saint-Michel? To make time and enjoy this wonder, the faster way is coming to Rennes with the high speed train (1h30).<br>Take the High speed train from Paris (not incluced in the price) and come to Rennes. Your driver-guide will meet you at the train station and drive you to the famous Mt St-Michel (1 hour drive).<br>Discover the island of Mont Saint-Michel, celebrated for its UNESCO Benedictine abbey, with its typical houses and shops in the medieval village. The site of Mont Saint-Michel is crowned by the abbey's church, about 240 feet above sea level. Your driver-guide will tell you the history and all the keys to enjoy this wonderful place. You will have a private guided tour of the village and the abbey church. There will also be some free time to enjoy a local meal and spend some time in village and on the fortifications before heading back to Rennes.... Read More
Duration:
7 hours
Priced From:
USD 1295.96
Discover the island of Mont Saint-Michel during Christmas time, celebrated for its Benedictine abbey, with its small houses and shops on its lowest level. The site of Mont Saint-Michel is crowned by the abbey's church, about 240 feet above sea level. You will have a private guided tour of the village and the abbey church. There will also be some free time to enjoy a local meal and spend some time in the Christmas market before heading back to Rennes. <br>This will be the first time that Mont Saint-Michel will have a Christmas market with local products from Normandy and Brittany, local paintors but also animation and a Nativity scene.... Read More
More Rennes Airport Transfer & Airport Connection Options