Things To Do in Philadelphia & 30th Street Station Train Station Layover Ideas
Things to do in Philadelphia if you have a 30th Street Station Train Station Layover or Extended 30th Street Station Train Station Stopover
If you have an extended layover at the 30th Street Station Train Station or staying in town, why not consider getting out with some fun activities? We list a few here and there are many more on
Philadelphia.LayoverIdeas.com
.
Duration:
2 hours
Priced From:
USD 10.00
Wacky Walks is a unique walking game. It is similar to a board game in which the power, or control shifts from one player to another, and instead of a board, you'll be navigating the city streets with your smartphone to play. <br>The objective of the game is to have fun, learn some facts about the city, be a little wacky, and enjoy the company of whoever you are playing with. Wacky Walks will start out by designating who will be the first King or Queen (kind of like a Team Captain), but don't worry, that could soon change. You'll then go out on checkpoints throughout the city. <br>At each checkpoint, the players will need to answer a question about the checkpoint and the players, or "pawns" as we call them will perform a task for the King or Queen. <br>Wacky Walks is done completely on foot and usually takes about two hours to complete. But don't worry, you won't be alone. You'll have a remote/virtual guide that will be available in case you get stuck.... Read More
Duration:
2 hours
Priced From:
USD 10.00
Crazy Dash is a digital adventure walking tour that takes you around the city to do silly tasks and see the sights using just an app on your smartphone. These sites could range from monuments and historical markers to sculptures and other important landmarks of the city. <br>The objective of the Crazy Dash is to have a blast with your friends and family, explore the city, learn a little, answer questions about your checkpoints, and complete crazy challenges. <br>After getting introduced to a remote guide via text message, you'll set out to 10 checkpoints around the city. At each checkpoint, you'll answer a question. Along the way, be prepared to perform crazy tasks! You won't be alone. Your remote Guide will monitor your progress throughout the Dash. They may even give you challenges!<br>... Read More
Duration:
2 hours
Priced From:
USD 10.00
Operation City Quest is an open world scavenger hunt, in which you use your smartphone along with a remote guide to seek out 150+ items including monuments, statues, and unique points of interest. Challenges and trivia from your guide makes Operation City Quest fun for the whole family. This downtown adventure game is played for two hours while walking about 2 miles.<br>
Duration:
2 hours
Priced From:
USD 10.00
3Quest Challenge is a digital adventure game that takes you around the city to complete 3 Quests using your smartphone. <br>You'll start out at a Home Base, then the game will lead you on 3 Quests around the city. Each Quest has 3 checkpoints. At each checkpoint, you'll answer a question to collect a clue, and then perform a challenge. For each question you answer correctly, you score a point! After you've completed the Quests, you'll come back to your Home Base to solve your final puzzle using the clues you've collected, and get even more points by solving the final puzzle correctly!<br>The objective is to have fun, score the most points, and correctly solve the final puzzle! You can form teams, race your friends, or just have an afternoon of fun with family and friends. Oh, and remember that you are not alone; you have a guide that is just a call or text away that can help throughout your adventure!<br>... Read More
Duration:
2 to 3 hours
Priced From:
USD 11.00
Fifteen clues, two hours, one city - this is a self-led scavenger race that sends groups capering around town to solve clues. Unlike other city-wide excursions, this one unshackles racers from the tyranny of official start times and concrete dates. Players simply click on a launch code, head to the starting line, and begin the scavenger hunt whenever they've got a spare two hours. During the process, players will hear fun stories and insights about historical sites while discovering hidden gems along the way.... Read More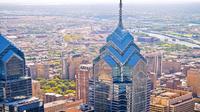 Duration:
2 hours
Priced From:
USD 15.00
One Liberty Observation Deck is Philadelphia's newest attraction! See Philly like never before from 57 floors above street level, providing amazing 360 degree views of the City of Brotherly Love and beyond. From up here you will enjoy incredible views of City Hall, Delaware and Schuylkill Rivers, Fairmount Park, Love Park, Ben Franklin Parkway, and Philly's other top points of interest.<br /> <span class='vSpecial'><p>
Special Offer - Book and save over 7% off local supplier's prices! - Book Now!</p></span> ... Read More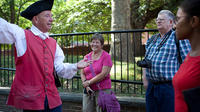 Duration:
75 minutes
Priced From:
USD 19.00
Join an experienced, costumed guide for an engaging and informative walk through the streets of Old City, the same streets where Ben Franklin and other founding fathers walked when Philadelphia was the birthplace of the country.  The tour passes by Franklin's Grave, Christ Church, Elfreth's Alley, the site of Franklin's House, Independence Hall, and the Liberty Bell.
Duration:
1 hour 15 minutes
Priced From:
USD 20.00
Discover the secrets hidden in the shadows of America's most historic and most haunted city! Join the Ghost Tour of Philadelphia for a candlelight walking tour along the back streets and secret gardens of Independence Park, Society Hill, and Old City, where ghostly spirits, haunted houses, and eerie graveyards lurk in the night! Experience history brought back to life with a costumed tour guide spinning tales of mystery and intrigue. Hear seldom-told tales about the city's historic sites, such as Independence Hall, Washington Square, Powel House, City Tavern, and more.... Read More