Things To Do in Lanzhou & Zhongchuan Airport Layover Ideas
Things to do in Lanzhou if you have a Zhongchuan Airport Layover or Extended Zhongchuan Airport Stopover
If you have an extended layover at the Zhongchuan Airport or staying in town, why not consider getting out with some fun activities? We list a few here and there are many more on
Lanzhou.LayoverIdeas.com
.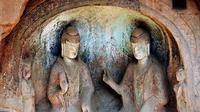 Duration:
4 days
Priced From:
USD 519.00
You will walk along the Yellow Rive, visit the oldest bridge in Lanzhou, enjoy a bird view of Lanzhou from the White Pogoda Mountain. The BinglingsI Grottoes is a important Buddhism area in Linxia city,the Yellow River goes into Bingling Gorge where the most attractive scenic spot -- Bingling Temple Grotto is situated. Labrang Lamasery, one of the six main lamaseries of the Yellow Sect of Buddhism and the largest Lamaism institute in the world with a large collection of scriptures volumes.... Read More
Duration:
4 days
Priced From:
USD 659.00
This 3-night tour will let you start either from Lanzhou or Xining by bullet train to Zhangye, then you will visit the attractions from Zhangye to Dunhuang including Mati Temple. Multi-color Danxia Mountain, Jiayuguan Fort, Overhanging Great Wall, etc. on the ancient Silk Road.
Duration:
5 days
Priced From:
USD 759.00
Kumbum Monastery in Xining and Labrang Monastery in Xiahe are renowned for Tibetan Buddhism. You will visit the attractions from Lanzhou to Xining including Gansu Museum, Bingling Temple Grottos, Labrang Monastery, Dongguan Mosque, and Kumbum Monastery.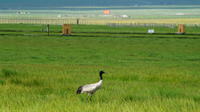 Duration:
16 days
Priced From:
USD 2687.00
<p>It's a 16-day birding journey to appreciate a rich and unique collection of birds at edge of Tibetan Plateau from Lanzhou. Led by a local Tibetan English-speaking guide, who has a passion for bird-watching and experience as a birder guide, you'll be climbing from an altitude of 1000 meter onto nearly 4000 meters, entering the "Roof of the World". Snow mountains, vast grasslands, hoodoos, lakes and wetlands……diversified landscapes are the backdrop of hundreds of ornithological delights, such as Pink-tailed Bunting and Black-necked Cranes.Remaining one of the least known birding destinations in the world, here is either home or migrant route to about 1/3 of total 1400 or so birds in this country.You'll explore hotbeds of birds from Gannan to Qinghai or Sichuan, with stops at several stunning Tibetan villages and monasteries. The itinerary can be tailored to suit your specific interests and schedules.</p>... Read More
More Zhongchuan Airport Transfer & Airport Connection Options