Advertising on IHateTaxis.com
Welcome to IHateTaxis.com Advertising!
People visit IHateTaxis.com to plan their international travel arrangements and to avoid or minimize some of the stresses that are experienced with international travel. We offer travel advice to those that are travelling by air, train, or ship from their arrival point to their next destination. IHateTaxis.com also offers hotel and car rental or hire booking options and visa arrangements. If your business wants to reach out to these travelers, then IHateTaxis.com is the place you want your ad campaign. Potential companies that may wish to run campaigns on IHateTaxis.com include taxis, airport shuttles, private bus transfer services, off-site airport carparks and parking lots, currency exchange services, hotels, limousine services, and airport authorities, just to name a few.
With visits from over 200 countries on a monthly basis, IHateTaxis.com users are checking destination pages both prior to their departure and on their mobile devices while waiting for their luggage to come off the carousel at their final destination. Your company has the opportunity to be featured into a new IHateTaxis.com e-medium for the global traveller. Travellers more than ever now wish to arrive stress-free at their destination and you can be a part of making travel easier and more enjoyable for everyone.
We serve various ad types on IHateTaxis.com pages. As our site targets a specific audience, you can be assured that visitors will see your targeted ad, drawing them to your service when they arrive at their final destination. We also offer integration of your booking engines to your service right from our pages so the user may arrange their transportation ahead of their arrival. We are also more than happy to work with you on other creative solutions.
Details of Ads and Pricing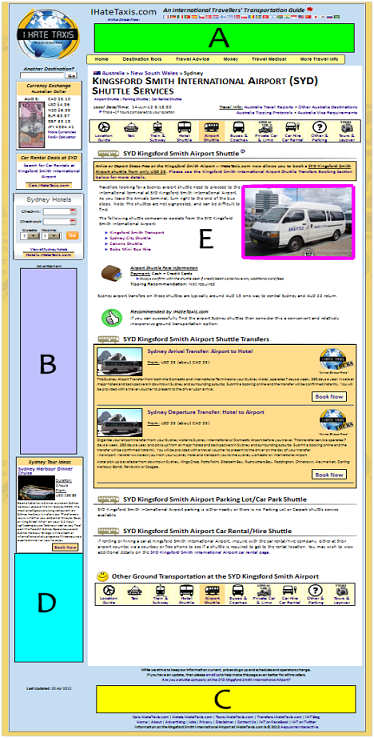 Leaderboards, 728x90 pixels, found at the top of each page
Full Skyscrapers, 160x600, found on the left of each page
Bottom banner, 468x60, found at the bottom of each page
Variable ad size, e.g., 125x125, found near the bottom of each page
Your photo here plus writeup.

This is our most popular ad type

and features a photo of your company's transportation for viewers to see PLUS priority placement for your company details and your service rates (if desired) to the left of the image AND links to your website, email address and/or phone number.
(not shown) Text Ads†, a few words about your company and a link AND/OR a link and a coupon for visitors to print off for your service.
(not shown), Your booking interface - allow customers to book their transportation right from the page.
(not shown), Other ad possibilities and ads found on non-destination pages (non- /airport/ pages).
Pricing of ads:
We keep our pricing clear and up front so you can budget appropriately. Ads on our destination pages are served as a contracted time period rate, not per impression (CPM) or per click through (CPC) rate. Contracts are for a minimum of 6 months with a discount for a 1 year period. The pricing is based on the ad type (A-H) and the page destination size (small, medium, or large). If you are looking for ads to run across the site then these are based on CPM. Rates below are for a one year period, but please do contact us for any questions you might have, including discounts for multiple pages and/or destinations.
| Ad Type Format | Small* | Medium* | Large* |
| --- | --- | --- | --- |
| A. Leaderboard | USD 75 | USD 150 | USD 300 |
| B. Skyscraper | USD 65 | USD 130 | USD 260 |
| C. Bottom Banner | USD 35 | USD 70 | USD 140 |
| D. Variable | USD 45 | USD 90 | USD 180 |
| E. Your Photo and Writeup | USD 100 | USD 250 | USD 400 |
*
Destination size based on destination flights and passengers served.
†
Text ad pricings are based on destination size and content. We do not serve non-relevant content text ads or competing text ads. All text ads are served with a rel="nofollow" tag.
For more information on advertising opportunities on IHateTaxis.com, please
Contact Us
. We look forward to doing business with you!
Who Visits IHateTaxis.com?
We often receive email with the question of who visits IHateTaxis.com. The map below gives some indication that our site is visited from just about everywhere and typically we receive visits from over 200 countries per month.