Osaka Itami Airport (ITM) Shuttle Transfers
Shared Osaka Itami Airport Shuttle Transfers

We have one shared transfer option that might be of interest to you. If you have any questions or would like to customize any Osaka Itami Airport transfer listed,

then please contact us

.

To ensure availability, we strongly recommend booking our transfer services at least 48 hours prior to your scheduled arrival or departure.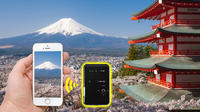 Shuttle (Private Transfer) from USD 40
Reserve the fast, reliable, and unlimited mobile WiFi hotspot that provides you with internet access on the go in Japan! Convenient pickup and drop-off at Kansai International Airport, also called Osaka Airport, and never worry about international roaming charges ever again. One hotspot can connect up to 10 devices so you only need to rent one to have your entire family or group of friends covered.




This transfer service runs to various destinations, please see the transfer details for destinations served and pricing | Shared shuttle transfer FAQ's
Travel Tips & Articles You Might Like







More Osaka Itami Airport Transfer & Airport Connection Options