Things To Do in Katherine & Tindal Airport Layover Ideas
Things to do in Katherine if you have a Tindal Airport Layover or Extended Tindal Airport Stopover
If you have an extended layover at the Tindal Airport or staying in town, why not consider getting out with some fun activities? We list a few here and there are many more on
Katherine.LayoverIdeas.com
.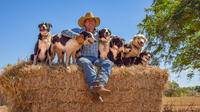 Duration:
90 minutes
Priced From:
USD 36.09
<strong>Tom Curtain's Katherine Outback Experience</strong> is a 90-minute show that provides a unique window into life on the land in outback Australia. It doesn't get much more authentic than real life horse-starting and working dog demonstrations entwined with Australian music and humorous bush tales. There is dust and chaos, and things don't always go to plan, but that is part of the beauty of the outback. <br />Tom released his third country music album in November 2017 which has had great success in the Charts going to No.1 on the Australian iTunes Country Music Charts.... Read More
Duration:
20 minutes
Priced From:
USD 155.17
Enjoy the magnificence of all 13 gorges in Nitmiluk National Park and fly low over the Katherine River for a thrilling photo opportunity of the Arnhem Land escarpment and surrounding scenery.
Duration:
45 minutes
Priced From:
USD 350.04
To experience the full diversity of Nitmiluk , choose this exciting scenic flight. Discover spectacular waterfalls, including Edith Falls, Northern Rockhole and many others within 17 mile valley and enjoy thrilling comprehensive views of all of Katherine Gorge.
Duration:
9 hours
Priced From:
USD 573.78
The Katherine Day Tripper is the perfect one day visit to Nitmiluk (Katherine) Gorge from Darwin. <br>This tour includes over 1.5 hours of scenic flights, the MUST DO Nitmiluk (Katherine) Gorge Cruise, lunch will then be provided at the Sugar Bag Cafe, a visit to an Arts and Cultural Centre and still be back in Darwin for late afternoon and evening activities.<br>This iconic tour is ideal for the time poor due to the long distances involved. The bonus of aircraft travel is not just limited to saving time though, it's really about the 1.5 hours of extraordinary views of the Adelaide and Mary Rivers, Yellow Water Billabong, stunning Arnhem Land Plateau, Jim Jim and Twin falls (in the wet season), Katherine Gorge and so many other major sites! <br>With a guaranteed window seat on all our flights sit back and take in the majesty of Australia's largest National Park whilst absorbing the informative commentary. ... Read More
Duration:
8 hours
Priced From:
USD 830.00
A true departure from the ordinary, your journey will begin with a compelling flight south to the breath-taking Katherine Gorge. Pass over the rugged Aussie Outback, as well as the Adelaide River and Pine Creek. After taking in the views of the landscape, the scenic flight extends over Katherine Gorge itself, with an all encompassing view of the grandeur and brilliance of the gorges.<br>The highlights continue with a helicopter flight taking you to hard-to-reach gorges that are as stunning as they are remote. This life-changing experience culminates with an awe-inspiring 2-hour boat cruise through the gorge, where you will be able to take in every remarkable aspect of the Katherine Gorge. Take a moment to relax before once again boarding a plane and returning to Darwin.... Read More
More Tindal Airport Transfer & Airport Connection Options