Things To Do in Navegantes & Navegantes Airport Layover Ideas
Things to do in Navegantes if you have a Navegantes Airport Layover or Extended Navegantes Airport Stopover
If you have an extended layover at the Navegantes Airport or staying in town, why not consider getting out with some fun activities? We list a few here and there are many more on
Navegantes.LayoverIdeas.com
.
Duration:
1 to 3 hours
Priced From:
USD 12.40
Unipraias Park is the main tourist attraction of Balneário Camboriú / SC – Brazil. The cable cars connect three stations, between the south side of Balneário Camboriú, up to Aguada Hill and down to the Laranjeiras Beach, and take you to a unique experience with a privileged view of the city and the Rainforest. It's the only one in the world to connect two beaches! This small group tour holds no more than 15 passengers. <br>Open daily from 9am to 5:30pm <br>From 25/12 to 14/02 from 08:30am to 7pm... Read More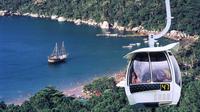 Duration:
8 hours
Priced From:
USD 19.00
It is said that Balneário Camboriú is a smaller version of the beautiful city of Rio. It has its own statue of Christ and cable cars reminiscent of the cable cars on Sugar Loaf Mountain. In addition to the beaches and lush green hills, which make Balneário Camboriú one of the most visited cities in the country, the main attraction is the Unipraias Park. This full-day tour will get you acquainted with this popular attraction, a draw for tourists and locals alike.
Duration:
12 hours
Priced From:
USD 24.00
Rely on a quick and safe transportation between most Balneario Camboriu hotels and the amazing Beto Carrero World. Visit the most famous attraction park of Latin America with Thematic areas, Shows, exciting rides and even a zoo!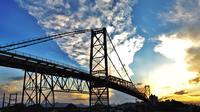 Duration:
8 hours
Priced From:
USD 33.00
Florianópolis is known in Brazil as the "Island of Magic". Its breathtaking beaches are a paradise to surfers and beach goers a like. It is thought by many as the best place to unwind and get in touch with your inner self. It holds a lot of history as well as some of the most beautiful beaches in the country, and you will enjoy visiting exploring it with your English or Portuguese guide. .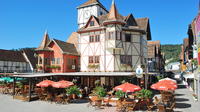 Duration:
8 hours
Priced From:
USD 33.00
Visit the charming little city of Blumenau on this 08-hour guided tour. As you walk the streets, you will feel like you are in Germany since the city was originally an German colony carved in the south of Brazil. Spend the day walking and exploring the city's culture that is true to the country that founded this unique location.
More Navegantes Airport Transfer & Airport Connection Options