Things To Do in Billings & Billings Logan Airport Layover Ideas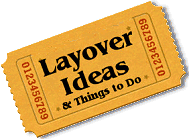 Things to do in Billings if you have a Billings Logan Airport Layover or Extended Billings Logan Airport Stopover
If you have an extended layover at the Billings Logan Airport or staying in town, why not consider getting out with some fun activities? We list a few here and there are many more on
Billings.LayoverIdeas.com
.
Pictograph Cave State Park
Pictograph Cave is a 93-acre area of three caves - Pictograph, Middle, and Ghost caves - located 8 kilometres (5 miles) south of Billings. Excavation of the three caves began in 1937, and they were the site of some of Montana's first professional archeological studies. Over 30,000 artifacts have been identified, with at least 20,000 animal remains recovered from the site. Species range from large mammalian species, including bison (Bos bison) and elk (Cervus elaphus), to various species of herpetiles (reptiles and amphibians) and avies (birds). Paintings known as pictographs are still visible in Pictograph Cave, which is the largest of the three caves, some of which are over 3500 years old. There are paintings of animals, warriors, and even rifles that document the story of the Native Americans of the area for thousands of years. The site was designated a National Historic Landmark in 1964. Open May to September.
Pompeys Pillar National Monument
Pompeys Pillar National Monument is a rock formation located in south central Montana, United States. Designated a National Monument, it consists of 51 acres, and includes the Pompeys Pillar Interpretive Centre. The pillar itself stands 45 meters (150 feet) above the Yellowstone River and consists of sandstone from the late Cretaceous Hell Creek Formation, 75–65 million years ago. The base of the pillar is approximately 1 acre. The pillar features an abundance of Native American petroglyphs, as well as the signature of William Clark, co-leader of the Lewis and Clark Expedition. Clark's inscription is the only remaining physical evidence found along the route that was followed by the expedition. The inscription consists of his signature and the date, July 25, 1806. Situated 40 kilometres (25 miles) northeast of Billings.
Yellowstone Art Museum
The Yellowstone Art Museum features contemporary and historical art from Montana and the Rocky Mountain region in a permanent collection of over 7,000 works. The museum is located in the former Yellowstone County Jail. The "Montana Collection" includes works from Rudy Autio, John Buck, Deborah Butterfield, Richard Notkin, Jaune Quick-to-See Smith, Ted Waddell, Patrick Zentz, Will James and Isabelle Johnson. The YAM was the Montana recipient of a gift of 50 works of minimalist and conceptual art from the internationally significant collection of Herbert and Dorothy Vogel. The Yellowstone Art Museum is one of only a handful of art museums in the country that have placed their entire collection storage areas on public view, in its innovative Visible Vault. Cafe. Closed Mondays.
Yellowstone National Park
Billings is a frequent overnight or meal stop for westbound visitors to Yellowstone National Park, as it is the last major city for visitors going to the park via the Beartooth Highway. So that means its close by. You'll need a car, but it's worth seeing.
As always, make sure you leave plenty of time to get back to the Billings Logan Airport in time for your connection and enjoy your layover city rather than whiling away the time leaning up against your luggage in the departures lounge.
Billings Attractions
Duration:
12 hours
From:
USD 56.95
Enjoy the sights and sounds of Yellowstone National Park on this full-day, self-guided tour. Start in Cooke City, Montana and travel to the Grand Canyon of Yellowstone, Norris Geysers, Grand Prismatic Spring, Old Faithful and Castle Geysers. Also, see Yellowstone Lake, Lehardy Rapids, Mud Volcano, and Hayden Valley. Along the way, look for elk, grizzlies, wolves, and buffalo in their natural environment.
---
Duration:
12 hours
From:
USD 56.95
Your Grand Teton National Park tour will start from Cooke City, Montana, taking you past Jackson Lake, Jenney Lake, Teton Village (Jackson Hole), Mormon Row, Glacial View Turnout and Oxbow Bend Turnout. Keep your eyes out for elk, moose, buffalo and grizzly spottings! This tour allows you to follow a guided route at your own speed through the incredible scenery of Grand Teton Park.
---
Duration:
12 hours
From:
USD 56.95
Your self-guided driving day tour of Yellowstone Upper Loop starts in Cooke City, Montana and takes you to Lamar Valley, home to an array of wildlife. You will then drive to the Grand Canyon of Yellowstone, Norris Geysers, Obsidian Cliff, Huckleberry Ridge, the Petrified Tree and more. Along the way you may run into elk, bears, wolves and buffalo!
---
More Things to do in Billings, including Tours, Layover, and Overnight Ideas
More Billings Logan Airport Transfer & Airport Connection Options