Things To Do in Bologna & Bologna Airport Layover Ideas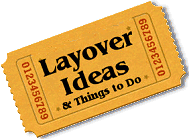 Things to do in Bologna if you have a Bologna Airport Layover or Extended Bologna Airport Stopover
If you have an extended layover at the Bologna Airport or staying in town, why not consider getting out with some fun activities? We list a few here and there are many more on
Bologna.LayoverIdeas.com
.
Neptune Fountain
Fontana di Nettuno (Fountain of Neptune) - Piazza del Nettuno. A fountain built in 1563 by Tommaso Laureti of Palermo later embellished by Jean de Boulogne (called Giambologna). It is considered to be one of Bologna's symbols.
Porticos Walk
I Portici (The Arcades). Visitors can walk under the typical arcades of Bologna for a total of 38 km. The Portici were originally built by order of the town authorities to house temporary visitors. They had to be wide enough that a man could lie down under them to sleep. Portico Walk to San Luca Walk through the historic 666 Porticos, leaving from the Porta Saragozza at the end of Via Saragozza.
University Quarter
The University Quarter (Via Zamboni) is full of bars and cafés. The University of Bologna is Europe's oldest university, founded over 900 years ago. There are a number of interesting, small museums at the University in the Palazzo Poggi.
Two Towers
Torre degli Asinelli (Tower of the Asinelli) and Torre dei Garisenda (Tower of the Garisenda) - Piazza di Porta Ravegnana. The main symbols of Bologna. Torre degli Asinelli (built between 1109 and 1119) is 97.20 metres tall (330 feet), with 498 steps and an incline of 1.3 meters (4 feet). Torre dei Garisenda (closed to the public)is 47 m (162 feet) tall and has a lean of over 3m (10 feet). Both were built in the 12th century.
National Picture Gallery
National Picture Gallery (Pinacoteca Nazionale di Bologna), via Belle Arti 56. Containing the city's most important art, it offers an interesting panorama of the Emilian and Venetian painting from the XIII to the XVIII century. A must: the works by Giotto, Raffaello, Parmigianino (Madonna col Bambino/Virgin Mary with Baby and the Saints Margaret, Girolamo and Petronio), Perugino, Tiziano and Tintoretto (Visitazione/Visitation and Saints Joseph and Zacharias).
Margherita Gardens
Giardini Margherita (Margherita Gardens), Viale Gozzadini. Bologna's main park created in 1875. The chalet converts to a nightclub in the summer evenings. Open: daily 06:00 to midnight.
Lamborghini Museum
The Lamborghini Museum , this famous car maker in Italy has been producing some of the most sought-after luxury sports cars in the world for decades. There is a bus you can take from Bologna to the center of Sant'Agata Bolognese, which is a five minute walk from the museum location. The ATB 576 bus (direction Crevalcore) departs from the main bus station in Bologna and takes roughly 50 minutes to get to the "S. Agata Bolognese Chiesa Frati" stop in Sant'Agata Bolognese, which is five minutes on foot from the museum.
As always, make sure you leave plenty of time to get back to the Bologna Airport in time for your connection and enjoy your layover city rather than whiling away the time leaning up against your luggage in the departures lounge.
More Bologna Airport Transfer & Airport Connection Options