Things To Do in Sao Paulo & Sao Paulo Congonhas Airport Layover Ideas
Things to do in Sao Paulo if you have a Sao Paulo Congonhas Airport Layover or Extended Sao Paulo Congonhas Airport Stopover
If you have an extended layover at the Sao Paulo Congonhas Airport or staying in town, why not consider getting out with some fun activities? We list a few here and there are many more on
Sao-Paulo.LayoverIdeas.com
.
Duration:
1 to 2 hours
Priced From:
USD 3.60
Football Museum will tell you the history and curiosities of Brazilian football. It is more than just a football museum, it is a museum of the history of the Brazilian people!
Duration:
1 to 2 hours
Priced From:
USD 5.36
MIS is one of the busiest cultural centers in the city of São Paulo, besides the great national and international exhibitions, it has a diverse cultural program, with events in all areas and for all audiences.
Duration:
30 minutes
Priced From:
USD 12.25
- Enjoy the urban landscape of São Paulo in all its grandiosity from the top of Edifício Itália [Itália Building] selected times schedules. You can see several places and known pathways of the city, including the Edifício Altino Arantes [Altino Arantes Buil- ding], the Serra da Cantareira (Cantareira Hill), the Elevado Costa e Silva (Costa e Silva Overpass) and the classical view of Edifício Copan [Copan Building] and Avenida Paulista in the background.<br>- A unique chance to get to enjoy one of the best places with scenic views in São Paulo with advance purchase and reserved time.<br>... Read More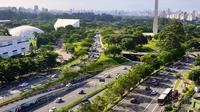 Duration:
2 hours 30 minutes
Priced From:
USD 12.50
Meet your professional guide at the The Museum of Contemporary Art, University of São Paulo to begin this 2 and half hour walking tour of Ibirapuera Park. Admission to the museum is included in your booking and you will get the chance to visit many other attractions such as the Japanese Pavilion. This tour is wheelchair accessible and will run rain or shine.<em> <br /></em>
Duration:
1 hour 30 minutes
Priced From:
USD 22.00
A stroll inside one of the most iconic stadiums in São Paulo; an unforgettable visit through the history, facilities and titles of the stadium of the Morumbi, officially called Cícero Pompeu de Toledo.<br>The visit lasting about 90 minutes and has a route that touches all who love Brazilian soccer including spaces such as Memorial, grandstand and the press room, to the warming up area and lockers room. The tour also has exclusive moments in audio and video, as well as a kick-and-go game, giving even more spice to the visit.... Read More
Duration:
3 hours
Priced From:
USD 25.00
Come and take a nice walking tour in the most bohemian and interesting neighborhoods of São Paulo! From Fradique Coutinho Subway, you will try various Brazilian snacks and sweets in six carefully selected places for a real and delicious immersion in Brazilian gastronomic culture. And we will cross the Batman Alley, famous urban art center, and the Benedict Calixto square, which has a very interesting antiques fair!
Duration:
4 hours
Priced From:
USD 33.75
Customize your perfect day of sightseeing taking a guided private tour to visit São Paulo's major tourist attractions and having an overview of it.?This tour is designed to be totally flexible featuring a broad range of possible sights to see, activities to do or topics to explore based on your preferences and willingness. <br>You can either follow our suggested itinerary presented in a sequential order or just select specific sights focusing more on culture, history, social-economic aspects, architecture, street art, local crafts and design, fashion, photograph, business, sports, LGBTQ culture, religion, shopping, gastronomy, art, other topics or a little bit of everything. Our guide should be at your disposal.<br>Stop at sights to explore in the company of the guide who will escort you in your tour expedition, providing an interpreting service along the way. ?No matter where you are within the city of São Paulo, the guide picks you up with the suitable vehicle wherever you are. ... Read More
Duration:
3 to 8 hours
Priced From:
USD 36.19
With a Local Host by your side, experience life in Sao Paulo like the locals do and immerse yourself in the city's vibrant culture, diverse neighbourhoods and ancient heritage. See the most iconic sights as well as getting off the beaten path and discovering authentic hidden gems, discovering the city as you would if you were visiting a friend who lived there! Your experience will be personalised to what you'd most like to see and do, so ditch the guidebook and let a local show you the real Sao Paulo!... Read More