Things To Do in Christchurch & Christchurch Airport Layover Ideas
Things to do in Christchurch if you have a Christchurch Airport Layover or Extended Christchurch Airport Stopover
If you have an extended layover at the Christchurch Airport or staying in town, why not consider getting out with some fun activities? We list a few here and there are many more on
Christchurch.LayoverIdeas.com
.
CHC Christchurch International Airport is about 12 kilometres from downtown Christchurch and with shuttle buses leaving within 10 minutes of you boarding, you will very quickly be on your way. The short trip into town provides you with far more things to do than you can possibly fit in and most people are very surprised if you are in Christchurch for anything less than a week. So to narrow down your choices here are some ideas to start with.
Cultural Precinct
Whether you have an hour or a day to spend in Christchurch, there is enough to see and do in the Cultural Precinct to keep you amazed and interested. Located in the heart of Christchurch you can experience New Zealand's arts, heritage and cultural attractions through organized tours and activities, you can travel by tram and hear stories about the area's history or you can wander around taking it all in at your own pace. Just jump on a shuttle from the airport and you will be there in no time.
The Christchurch Gondola
Welcome Aboard the Christchurch Gondola, the first and only Gondola in Christchurch City, One of the most popular Christchurch activities offers a spectacular ride 500 metres above the city. In a 4 person Gondola cabin lifts you gently up over the 945m ride. Views in every direction allow you to take in Pegasus Bay and the Pacific Ocean to Kaikoura, Banks Peninsula, Lake Ellesmere and Lyttleton Harbour, as well as all the way across the Canterbury Plains to the Southern Alps. At the top you can quench your thirst or enjoy a meal at the Summit Café or the Pinnacle Restaurant and you can stretch your legs on one of several marked walkways.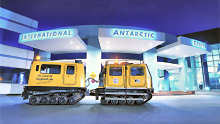 International Antarctic Centre
If you prefer not to stray too far from CHC Christchurch International Airport you can walk the few metres from the International Terminal to the International Antarctic Centre where you can see New Zealand penguins or take a ride on the Hagglund to experience the feeling of being a real Antarctic explorer. You can also go to the Aquarium, experience the force of an Antarctic storm or enjoy the snow and ice experience. And best of all you can stay as long as you like as the airport is minutes from the centre and you will be back in the departures terminal in no time.
Shopping
Just 10 minutes from CHC Christchurch International Airport is the shoppers paradise of Westfield Riccarton. There are over 180 stores and cafés to help you satisfy your need for retail therapy while you await your next flight. And if you are accompanied by anyone who prefers not to shop, they can relax at one of the many eateries or take in a movie while they wait.
As always, make sure you leave plenty of time to get back to the airport in time for your connecting flight and enjoy your transit city rather than whiling away the time leaning up against your luggage in the departures lounge.
Christchurch Attractions
Duration:
1 hour
From:
USD 12.54
Enjoy a walk through Riccarton House. Surrounded by lawns, mature trees, gardens and native bush, and bordered by the River Avon, the House enjoys the elegant setting of a bygone era. A guided tour is the only ways to gain access to this historic homestead.
---
Duration:
9 hours
From:
USD 13.94
Explore the Christchurch Botanic Gardens on a narrated tour aboard an open-air electric shuttle that provides unobstructed views of the Gardens' variety of flowers and other plants. If you wish, you can see even more of Christchurch with optional upgrades that include the hop-on hop-off Christchurch Tram tour through downtown, a Punt cruise on the Avon River and a ride on the Christchurch Gondola. Choose the combination that interests you most, and enjoy various perspectives on the city's renewal since devastating earthquakes struck in 2010 and 2011.
---
Duration:
1 day
From:
USD 17.42
Welcome aboard the Christchurch Tram! Travel on our newly extended track & enjoy this unique and historic way to view the inner city. Drivers provide a live and entertaining commentary. A full circuit takes 50 minutes, includes 17 stops and there are up to four Trams operating. Trams run approximately every 15 minutes and your ticket lasts all day.
---
Duration:
20 to 60 minutes
From:
USD 17.42
Travel up and down on our chairlift for a stunning scenic ride taking in the adventures around you as you go. You will dismount at the top and there is a short walk to take some snaps with views of the city, the Pacific Ocean, and the Southern Alps. The perfect background for a selfie.
---
Duration:
1 day
From:
USD 19.51
Explore the tranquil side of Christchurch with a classic boating, or Punting, experience on the beautiful Avon River. A punter provides informative commentary as he or she guides you and your companions past the city centre and Christchurch Botanic Gardens in a narrow boat. You can upgrade your tour to include the Christchurch Botanic Gardens Tour, a Christchurch Gondola ride, or a Christchurch Tram's hop-on hop-off sightseeing tour of downtown. <br /> <br /> <strong>Booking must be made prior to arrival. Call to book.</strong>
---
Duration:
2 hours
From:
USD 20.90
Celebrate the recovery of Christchurch following the 2011 earthquake, and take a trip aboard the Christchurch Gondola. The upgraded cable car takes you on a scenic journey to the Port Hills crater rim and Mt Cavendish summit, giving you fabulous views of Christchurch's dramatically changed cityscape. See Canterbury Plains and Lyttelton Harbour unfold as you rise to the revamped summit complex, on the crater rim of Christchurch's famous extinct volcano. To see even more of Christchurch, add a shuttle bus tour at the Christchurch Botanic Gardens or go Punting on the Avon River.
---
Duration:
1 to 5 hours
From:
USD 22.65
The only place to see NZ's Big 5 wildlife (kea, kaka, takahe, tuatara and guaranteed kiwi viewing) all in one location! <br><br>Get 'up close and personal' with over 50 different wildlife species!
---
Duration:
1 to 5 hours
From:
USD 30.31
The only place to see NZ's Big 5 wildlife (kea, kaka, takahe, tuatara and kiwi ) all in one location! Including a 45 minute guided tour to meet the kea and guaranteed kiwi viewing!<br>Get 'up close and personal' with over 50 different wildlife species!
---
More Things to do in Christchurch, including Tours, Layover, and Overnight Ideas
More Christchurch Airport Transfer & Airport Connection Options