Things To Do in Roseau & Port of Roseau Port Terminal Layover Ideas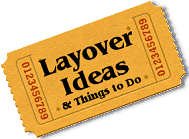 Things to do in Roseau if you have a Port of Roseau Port Terminal Layover or Extended Port of Roseau Port Terminal Stopover
If you have an extended layover at the Port of Roseau Port Terminal or staying in town, why not consider getting out with some fun activities? We list a few here and there are many more on
Roseau.LayoverIdeas.com
.
We have several port of call tours for your stay in Dominica when you arrive at the Roseau Port
Dominica Shore Excursion: Roseau City Sightseeing and Beach Tour
While you're in port in Roseau, combine a brief city tour with beach time on this 3.5-hour shore excursion. With a local guide, tour central Roseau in an air-conditioned bus, checking out its historical French Colonial architecture. Then visit the Dominica Botanic Gardens and the Morne Bruce viewing point before arriving at Mero Beach for two hours of relaxation in the sun. Beach chair and umbrella rental plus a tropical drink are included, as is pickup and drop-off at the Roseau port.
Dominica Shore Excursion: River Tubing Safari
Step off your cruise ship in Dominica and head out on a river tubing shore excursion. Dominica is filled with rivers and other natural features that make it one of the most intriguing Caribbean islands. This river tubing safari will give you a look at its splendor – it's wet, wild and wonderful from the word go.
Dominica Shore Excursion: Half Day Jeep Safari
Spend your time in port in Dominica on a Jeep safari. You'll enjoy the natural beauty of Dominica while being driven around by an expert tour guide in an open-air, four wheel-drive vehicle. It's an exhilarating way to spend your shore excursion.
Dominica Shore Excursion: Wacky Rollers Adventure Park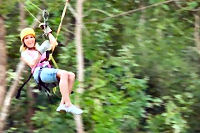 Pack your time in port in Dominica with some Dominican adrenaline on a Wacky Rollers Adventure Park shore excursion. You'll head to the Dominican rainforest, where you'll move from tree to tree, safely enclosed in a harness, via suspended platforms, bridges and ziplines. Your adventure will be rewarded with a refreshing drink at the riverside bar.
Dominica Shore Excursion: River to Ocean Kayaking Adventure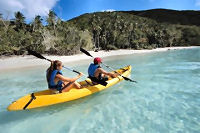 Get off your cruise ship in Dominica and head out on a kayaking shore excursion. This river to ocean kayak adventure is a wonderful way to spend your time in port – you'll see the island's beauty and have a memorable experience.
Dominica Shore Excursion: Caribbean Cooking Experience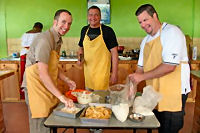 While you're in port in Roseau, don't miss this chance to learn how to make fresh Caribbean cuisine! At a local home up in the Dominica hills, you'll make traditional Caribbean dishes and learn about the native herbs and produce used in Caribbean cuisine. Then reward your hard work by sitting down to your homemade meal, accompanied by rum punch. This shore excursion includes round-trip transport from the Roseau Bayfront.
As always, make sure you leave plenty of time to get back to the Port of Roseau Port Terminal in time for your connection and enjoy your layover city rather than whiling away the time leaning up against your luggage in the departures lounge.