Things To Do in Guayaquil & José Joaquín de Olmedo Airport Layover Ideas
Things to do in Guayaquil if you have a José Joaquín de Olmedo Airport Layover or Extended José Joaquín de Olmedo Airport Stopover
If you have an extended layover at the José Joaquín de Olmedo Airport or staying in town, why not consider getting out with some fun activities? We list a few here and there are many more on
Guayaquil.LayoverIdeas.com
.
Duration:
3 hours
Priced From:
USD 30.00
Traveling along the main streets and avenues of the city, you'll see all of Guayaquil's highlights on this 3-hour tour.
Duration:
3 hours
Priced From:
USD 30.00
A themed attraction that recreates and revives the old Guayaquil. Visit the famous Historical Park that allows you to live the memory of Guayaquil from the past with its characters, traditions and architecture.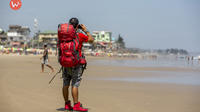 Duration:
1 to 365 days
Priced From:
USD 38.00
Connecting Guayaquil and the Pacific Coast with Quito, use this pass to hang out in Montañita and then explore Machalilla National Park and Puerto López (for whale-watching, in season) before climbing up the Andes to Quito. Connect this pass with any of our other passes and travel around the country.
Duration:
15 minutes
Priced From:
USD 45.00
We fly Paragliding in front of the sea on the Ruta del Spondylus (Ruta del Sol) Playa Bruja Libertador Bolivar, Montañita, Santa Elena, Ecuador.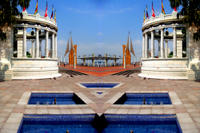 Duration:
4 hours 30 minutes
Priced From:
USD 48.00
Explore Guayaquil on a private sightseeing tour as you learn about Ecuador's largest and most populous city from a local guide. If you wish, continue your tour with an optional visit to the renowned Guayaquil Historical Park for a deeper look at Ecuador's ecological, architectural and cultural history.
Duration:
1 to 3 days
Priced From:
USD 50.00
We start the tour from the hotel or airport and depart for the seminar park characterized by beautiful iguanas that walk relaxed near their visitors.<br>Then we will visit the Malecon 2000, an emblematic place of the city, from there we will take a boat that will take us along the Guayas River to Santay Island, a place very popular for its flora and fauna.<br>After that we will visit 'La Perla' and Santa Ana hill.<br>At the end we will visit the Craft market of Guayaquil. Other important place to visit is The General Cementery, the eye-catching white architectonic group formed by magnificent mausoluems.... Read More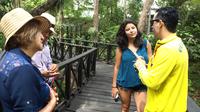 Duration:
4 hours
Priced From:
USD 62.50
<p>This private tour offers a unique opportunity to experience a true inside look at the most interesting and surprising places of Guayaquil. Visit the Historical Park starting the tour in the wilderness area whose path allows us to see several species of birds, mammals, fish and other animals endemic to our region. Continuing the journey in architectural urban area where we will discover the old Guayaquil, the house of Colonel Julian, the territorial bank, green house and other traditional places full of history of the city; at the end of the park is the area where traditions stand the ranch house and peasant house, as well as several own crops in the region such as bananas, coffee, cocoa and rice.</p>... Read More
Duration:
9 hours
Priced From:
USD 69.00
Early departure after breakfast go to Cuenca we stop at the Cajas National Park, one of the most beautiful national parks in the southern part of Ecuador, a lacustrine system of more than 230 lakes, hike about 2 hours. In this tour in addition a technical stop is held in a small farm to discuss and observe typical fruits of the area such as cacao, oranges, etc., and throughout the trip typical plantations will appreciate coast such as rice and sugar. Then we had lunch and continue our journey to reach the Cuenca city. We will drop you off at your hotel in Cuenca.... Read More