Things To Do in Marrakesh & Marrakesh Airport Layover Ideas
Things to do in Marrakesh if you have a Marrakesh Airport Layover or Extended Marrakesh Airport Stopover
If you have an extended layover at the Marrakesh Airport or staying in town, why not consider getting out with some fun activities? We list a few here and there are many more on
Marrakesh.LayoverIdeas.com
.
Duration:
3 to 4 hours
Priced From:
USD 5.00
Morocco, apart from the different old world charms and historic monuments it withholds inside its bowels, is also very famous and prominent as an indigenous hub of spices and natural additive as much as it holds renown globally for the Moroccan Rugs For Sale. Hence it comes as no surprise that Moroccan food is also a major tourist attraction. On this interesting and intriguing tour we have as many items lined up for a visual feast as we have for a culinary feast as well. Moroccan food is regarded as one of the best cuisine in the world and it is the outcome of the special herbs and spices that food is concocted in. ... Read More
Duration:
1 hour
Priced From:
USD 9.64
s time to Discover Marrakech's verdant oasis from the top of the red city during the sunset and using a camel ride through the Palmeraie, a huge palm grove a short drive from the city. After you picked up to your Marrakech hotel or riad, you'll visit a Berber traditional house and discover their cultures while having mint tea with the family, then get back to the Palmeraie to enjoy a scenic camel ride experience. This small-group tour is limited; it is only for seven people in order to ensure that you have a pleasant experience during the home visit and your camel ride.... Read More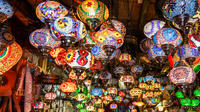 Duration:
30 minutes
Priced From:
USD 10.06
Book a smooth, reliable transfer and ARRIVE HAPPY.&nbsp; <br>Enjoy a pre-booked worry and hassle free transfer, no long taxi queues and a safe driving experience.&nbsp; <br>24/7 support available on telephone, Live Chat and email
Duration:
3 hours 30 minutes
Priced From:
USD 10.41
Explore Marrakech's vibrant souks and discover its hidden treasures on a private tour. Delve into the maze-like lanes of stalls and be impressed by the appealing colors & extraordinary handicrafts. Meet artisans and have fun while practicing your bargain skills in Arabic.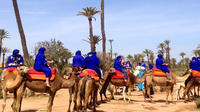 Duration:
2 hours
Priced From:
USD 11.29
Explore the Palmeraie of Marrakech on a sunset camel ride. Stop at the home of a Berber family and chat with them about life outside the city center. Continue your camel ride through the palm trees on a different path and watch the sunset. <br>Ride a camel through the palm trees of the Marrakech Palmeraie .visit the home of a local Berber family and chat with them about their life.
Duration:
4 hours
Priced From:
USD 11.57
Use fixed steel cables and metal rungs to climb the Todgha Gorge on an independent or self-guided climbing experience that includes all necessary equipment. Follow Morocco's first Via Ferrata climbing route, take in the views from the top, and explore a dramatic landscape in the High Atlas Mountains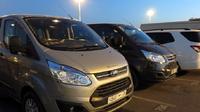 Duration:
15 minutes
Priced From:
USD 12.00
WE Propose a VIP&nbsp; shuttle Serice from MARRAKECH AIPRORT ( RAK) TO MARRAKECH CITY (all areas)&nbsp; <br> <br>All our cars are -2 years old&nbsp; <br> <br>Equipement : <br> <br>WIFI ACCCES&nbsp; <br>ELLMITED STOPS&nbsp; <br>AC <br>BABY SEAT (on demande ) <br>Mobile charger <br> <br>Note : <br>arrival and complete address for your destination.You will benefit&nbsp;:·&nbsp; Personalized welcome&nbsp;·&nbsp;&nbsp;&nbsp;&nbsp;&nbsp;&nbsp;&nbsp;&nbsp; &nbsp;Professional driver&nbsp;·&nbsp;&nbsp;&nbsp;&nbsp;&nbsp;&nbsp;&nbsp;&nbsp; Waiting time up to 1 hour free&nbsp;·&nbsp;&nbsp;&nbsp;&nbsp;&nbsp;&nbsp;&nbsp;&nbsp; Track your flight&nbsp;&nbsp; <br>Money back guarantee is a commitment to satisfy you and meet your needs&nbsp;This transfer is shared maximum 15 passengers... Read More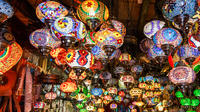 Duration:
30 minutes
Priced From:
USD 12.66
Book a smooth, reliable transfer and ARRIVE HAPPY.&nbsp; <br>Enjoy a pre-booked worry and hassle free transfer, no long taxi queues and a safe driving experience.&nbsp; <br>24/7 support available on telephone, Live Chat and email
More Marrakesh Airport Transfer & Airport Connection Options