Things To Do in Surabaya & Bandar Udara Juanda Airport Layover Ideas
Things to do in Surabaya if you have a Bandar Udara Juanda Airport Layover or Extended Bandar Udara Juanda Airport Stopover
If you have an extended layover at the Bandar Udara Juanda Airport or staying in town, why not consider getting out with some fun activities? We list a few here and there are many more on
Surabaya.LayoverIdeas.com
.
Duration:
5 hours
Priced From:
USD 28.00
Malang batik class will introduce local-based workshop in local artisant house to try basic learning of batik making process. From drawing pattern with typical malang art pattern, wax applying in the fabric with traditional 'Canting' and organic wax, and learn to do fabric dye with organic ingredients which apply the earthy colour on the fabric. Guests will be able to interact with local ladies artisant who's been creatively inspiring their free housewive with batik producing.
Duration:
7 hours
Priced From:
USD 40.00
Experience visit to rural life in Malang colntryside and interact with genuine locals.<br>During the trip guests will visit local's housing area, cycling around the 'Kampoeng' and try local home-made dishes in local house. Cycling route will pass sugar cane plantation and rice field area as well.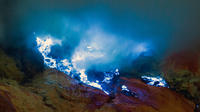 Duration:
2 days
Priced From:
USD 51.17
Ijen Crater is one of the most tourism destination in East Java. Enjoy 6 hours drive journey to Bondowodo City from Malang or Surabaya, to see one of blue fire in the world. You will be accompanied by our friendly local guide to trek from Paltuding to Crater. While at the top, you will see blue fire close up and enjoy best panorama of the lake of Sulphur at the top.
Duration:
5 hours
Priced From:
USD 51.50
This private half day begins when you are picked up from your accommodation. Meet our professional guide and then proceed to visit Chinese Temple, Kampung Arab, Pabean Traditional Market, and then House of Sampoerna.<br>Lunch is on your own expenses.<br>after that drive back to your hotel accommodation.
Duration:
4 to 7 hours
Priced From:
USD 60.00
Surabaya city tour <br>During this city tour you will have the chance to explore Surabaya, along with it's history, culture and food. we will visit historical buildings, Temples, Arabtown, Chinatown, and you will have the chance to try some of our delicious fruit and types of food you might never tried.This tour is perfect for those travellers who want to experience and learn new things about our culture, history, the way people live, and really feel the difference from what you might see in your own country.<br>We're experienced with shore excursion and vip guest. in this tour we provide full services. we will only provide hiqh quality service and facilites.... Read More
Duration:
7 to 12 hours
Priced From:
USD 65.00
1 day Bromo tour is suitable to traveller who doesnt has more time in surabaya/malang. within 1 day start in the morning you will explore one of the most stuning nature and mountain.<br>if you think sunrise tour would be too tiring,this tour is best option for you.<br>Our private and proffesional tour guide will pick you up with our private comfortable car at any locations in surabaya/malang. Explore bromo and madakaripura waterfall in the same day, its a private tour you have chance to add or change the destinations that you might interest in the same direction/nearest area.... Read More
Duration:
17 hours
Priced From:
USD 65.00
Watching the sunset from a mountain is something you should experience once in a lifetime. Join this tour and let it takes you to the most wonderful place in East Java. With the initial point from Surabaya, you can head to Mount Bromo for about 4 hours. As soon as you arrived at the mountain, the first thing you will do is spectating the golden sunrise. After that, exploring the magnificent Luhur Poten Temple, Teletubbies Savanna, and Whispering Sands will make the tour feels more complete. Get your camera ready, snap some stunning photos, & create tons of fantastic memories in Mount Bromo!... Read More
Duration:
1 day
Priced From:
USD 66.50
Bromo is not standing alone , there is Batok Mountain (2447 meter high) with beautiful shape and covered by green algae on every side. Both of those mountains are surrounded by magnificent caldera, which call as <br>Lautan Pasir (Sea of sand). This <br>Midnight Bromo Tour via Surabaya very suitable for guests who wants to spend more time exploring Surabaya heritage city tour or have very short time during their bussiness visit. With this program, guests will be able to visit the most beautiful waterfall in East Java : it is Madakaripura waterfall. Come and join with us to explore the weekend getaway in East Java!... Read More