Things To Do in Doha & Doha Hamad Airport Layover Ideas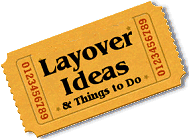 Things to do in Doha if you have a Doha Hamad Airport Layover or Extended Doha Hamad Airport Stopover
If you have an extended layover at the Doha Hamad Airport or staying in town, why not consider getting out with some fun activities? We list a few here and there are many more on
Doha.LayoverIdeas.com
.
Museum of Islamic Art
An iconic feature of the Doha skyline, the Museum of Islamic Art represents the full scope of Islamic art from three continents over 1,400 years. The Museum was designed by noted architect I.M. Pei, who was inspired by elements of classic Islamic architecture. There are regular special exhibitions, events, lectures and activities. Closed Tuesdays. The Museum is also home to IDAM, an Alain Ducasse restaurant. At the adjacent MIA Park, you can rent bicycles and paddleboats, or just gaze at the Doha skyline. The museum is located at the south end of the Corniche promenade (bicycles prohibited).
Sheikh Faisal collection
This magnificent private collection was acceded to Sheikh Faisal bin Qassim Al Thani by his father, Sheikh Qassim bin Faisal. More than 3,000 unique pieces are housed in a large building. The collection includes ancient Islamic manuscripts, major archaeological findings, metal objects, textiles, carpets, embroidery and antique furniture. There is also a rather fascinating collection of historic cars, including a 19th century steam vehicle.
Souq Waqif
Souq Waqif, Doha's renovated Arabic market quarter is a maze-like space with corridors you can wander for hours. The Souq is organized more or less by what is sold, witn a section of spice shops, another of textiles, and even a quarter that sells falcons. You will also find places to buy souvenirs, sit down to smoke a Sheesha, or enjoy food at one of the restaurants bordering it.
Doha Corniche
Al-Corniche is a long seaside promenade that curves around Doha Bay, offering views of Palm Tree Island and the Doha's skyline. The Corniche is a favourite spot for walking or jogging. watch out for the odd crazy Western ex-pat on rollerblades. Cycling is prohibited.
There are several parks close to the Corniche which are ideal for families, as well as several statues. Look for Orry, the Oryx, mascot for the 15th Asian Games held in 2006, Rumeila Park is midway along Doha Corniche, with an outdoor theatre, art gallery, water features, children's play area, skateboard/rollerblading half-pipe, several shops, a cafeteria and public toilets.
Desert Safari
If you want to get out of the city, the desert awaits. A desert safari on the sand dunes is a truly unique experience. Hire a driver (ask at your hotel), or take an organized tour. You can go beyond sand dune trips, with overnight desert camping.
Inland Sea
Located in the far south-eastern quarter of the country right down on the Saudi Arabian border is the Inland Sea known as Khor Al Daid in Arabic. The inland sea is an enormous inlet from the Persian Gulf surrounded by massive soft sand dunes that can only be reached by a hair-raising drive across the sand in a 4-wheel drive vehicle. A unique possibility if you have an extended layover.
All-Khor
Al-Khor (Al Khawr), far older and smaller than Doha, used to be the centre of the now non-existent pearl trading industry. Today, the city is undergoing renovation. Located 50 kilometres north of Doha, Al-Khor boasts a small Corniche (promenade), a sometimes-open museum, numerous watchtowers, and a port full of fishing boats. Al-Khor is a pleasant and quiet, laid-back town, and though its Corniche cannot match Doha's in beauty, it does offer a nice enough place to relax and sunbathe, or play beach volleyball or cricket if you feel like being a little more active. There are plenty of shady places to sit near the sand, but you can't swim in the bay here as, like much of Qatar, the water is too shallow.
As always, make sure you leave plenty of time to get back to the Doha Hamad Airport in time for your connection and enjoy your layover city rather than whiling away the time leaning up against your luggage in the departures lounge.
More Doha Hamad Airport Transfer & Airport Connection Options