Things To Do in Dar Es Salaam & Dar Es Salaam Airport Layover Ideas
Things to do in Dar Es Salaam if you have a Dar Es Salaam Airport Layover or Extended Dar Es Salaam Airport Stopover
If you have an extended layover at the Dar Es Salaam Airport or staying in town, why not consider getting out with some fun activities? We list a few here and there are many more on
Dar-Es-Salaam.LayoverIdeas.com
.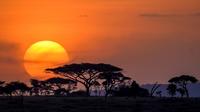 Duration:
1 day
Priced From:
USD 25.00
Ticket booking to Kilimanjaro And Upcountry cities!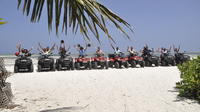 Duration:
3 to 5 hrs
Priced From:
USD 60.00
<strong>Zanzibar Quad Adventure Experience</strong> <br> <strong>DURATION:&nbsp;</strong>4 hours <br> <br> <strong>Trip Highlights</strong>&nbsp; <br> <ul> <li>Ride on your own off-road quad to explore Zanzibar's inland areas&nbsp;</li> <li>Discover the wonderful sites, beautiful landscapes and meet the friendly people&nbsp;</li> <li>Enjoy the trip with an experienced knowledgeable English-speaking guide&nbsp;</li> <li>The best way to get first-hand sights of the Real Zanzibari everyday life&nbsp;</li> <li>Spot the sugar cane, and pineapple plantations and paddy rice fields&nbsp;</li> <li>Come across coconut palms, baobab trees and spice, and fruit plantations&nbsp;</li> </ul>... Read More
Duration:
Flexible
Priced From:
USD 70.00
Zanzibar is the islands of the spices, where merchants of the old world traded in cardamom, nutmeg, ginger, vanilla, and cloves. On this half-day tour, learn about the spice industry on the main island of Zanzibar, soak up the exotic aromas, and visit World Heritage–listed Stone Town, the historic old city center. Hotel pickup and drop-off is included.
Duration:
6 hours
Priced From:
USD 70.00
Raised from the humble surroundings of a Fishing Village just over a century ago, Dar Es Salaam blossomed into one of the most beautiful sea-side capitals. Many beautiful and un spoilt beaches are within easy reach of Dar Es Salaam, literally translated as 'The Heaven of Peace'. Our most popular excursion in the city for tourists in transit enroute to the game parks of the North or South, or for Business clients with some leisure time, is the half day Dar Es Salaam City Tour.
Duration:
5 to 8 hours
Priced From:
USD 82.80
The city is the leading arrival and departure point for most tourists who visit Tanzania, including the national parks for safaris and the islands of Unguja and Pemba.<br>Dar es Salaam is also the largest and most populous Swahili-speaking city in the world. In the 19th century, Mzizima (Kiswahili for "healthy town") was a coastal fishing village on the periphery of Indian Ocean trade routes. In 1865 or 1866, Sultan Majid bin Said of Zanzibar began building a new city very close to Mzizima and named it Dar es Salaam. Dar es Salaam fell into decline after Majid's death in 1870, but was revived in 1887 when the German East Africa Company established a station there.<br>And more to share...... Read More
Duration:
8 hours
Priced From:
USD 88.00
From the pristine sand, swim in shallow waters or simply lay on the beach and relish the warmth of the tropical sun. Relax and bask in the sun under the clear Zanzibar sky. Move to Kwale Island, a great place to explore and climb an ancient baobab tree, which fallen down hundreds years ago but still standing tall, walk along the beach, view coral formations, discover hermit crabs scurrying about. At the edge of Kwale island, you will get to swim on a green lagoon from natural coral reef and mangroves. Don't forget a special lunch based on Sea food, get to test Zanzibar grilled lobsters, segull, crabs, squids, octopus, tuna fish with local sauces. Your meal is followed by a tasting an exotic fruits of the season.<br>Snorkeling at the coral of the limpid and crystalline water of Zanzibar, will bring you incomparable adventure that you would live at authentic of local boats. ... Read More
Duration:
3 to 8 hours
Priced From:
USD 90.00
This will be also a unique opportunity to meet the most creative and inspirational women of Tanzania. This will include the artists of Tinga Tinga Art Market; the highly skilled disabled sculptors of Wonder Workshop renowned for their spectacular models made from recycled materials; and local fashion designer Kemi Kalikawe. There will be an opportunity to purchase unique pieces of African art to take back home.
Duration:
4 to 8 hours
Priced From:
USD 90.00
Gain first hand experience of the social issues facing Dar es Salaam – living conditions of families, rapid urbanization, infrastructure issues and the urban environment. You will visit markets and meet the people who work and innovate in the informal economy, and hear about the struggles they face.