Things To Do in Sao Paulo & Sao Paulo Guarulhos Airport Layover Ideas
Things to do in Sao Paulo if you have a Sao Paulo Guarulhos Airport Layover or Extended Sao Paulo Guarulhos Airport Stopover
If you have an extended layover at the Sao Paulo Guarulhos Airport or staying in town, why not consider getting out with some fun activities? We list a few here and there are many more on
Sao-Paulo.LayoverIdeas.com
.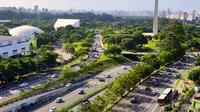 Duration:
150 to 180 mins
Priced From:
USD 19.00
<em>Explore the best park in the city on foot!? Discover curiosities through sculptures, museums, monuments full of history, culture and art.</em><em>Get to know our urban beach, walking around the lakes, observing the nature.?The refuge where the city residents go to relax, meditate, gather the family and friends for a picnic, practice physical exercises, bike ride, appreciate urban art through colorful murals and contemplate the works of Oscar Niemeyer, one of the greatest icons of modern Brazilian Architecture.<br /><br /><br /></em>... Read More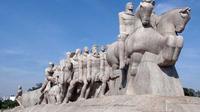 Duration:
3 hours
Priced From:
USD 71.00
This City Tour Meet São Paulo presents the main touristic places, monuments and historical landmarks of the city. A long of the tour you will see the most different and amazing sides about the urban and economic development giving to the tourist a new point of view about how São Paulo became one of the most beautiful and important cities in the world.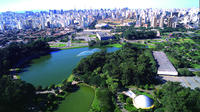 Duration:
4 hours
Priced From:
USD 74.00
Take in the historic monuments and architectural wonders of São Paulo on this 4-hour walking tour, including hotel pickup and drop-off. Along the way, see attractions such as the MASP Museum, the Bandeirantes Monument, Edifício Itália and Estação da Luz; walk across the scenic Viaduto do Chá; and admire the views from Ibirapuera Park.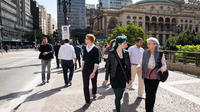 Duration:
5 hours
Priced From:
USD 79.00
Downtown of São Paulo is gorgeous, full of amazing architecture, interesting characters and great bars. <br /><br />This tour explores the traditional and the contemporary Downtown Area.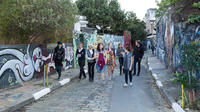 Duration:
5 hours
Priced From:
USD 79.00
The best way to learn Brazil's history is through its coolest neighborhood called Vila Madalena.<br /><br />Come explore one of the most bohemian neighborhoods in the world as we show graffitied, urban arts, bar and galleries.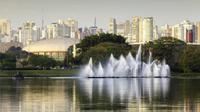 Duration:
4 hours
Priced From:
USD 98.00
This 4 hour private and exclusive city tour of São Paulo is suitable if you are in lay-over or taking a break from your hotel opting for an overview of the main attractions from São Paulo City. Enjoy sightseeing by executive car or van with a knowledgeable and Licensed tour guide. <br />Take a brief walk through downtown São Paulo and view city landmarks like Pacaembu stadium, Paulista Avenue, Ibirapuera Park, Sé Cathedral square, Pateo do Collegio Luz Station and more. This tour includes hotel pick-up and drop-off (São Paulo Metropolitan area) and pickup and drop-off to São Paulo Major Airports: Guarulhos International airport GRU or Airport from São Paulo - Congonhas CGH.... Read More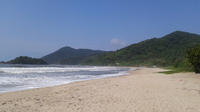 Duration:
10 hours
Priced From:
USD 100.00
Discover white-sand beaches and warm, turquoise waters on the coast of São Paulo state on this full-day, small group tour from the city of São Paulo. Not far from this bustling metropolis city are some of Brazil's most beautiful beaches — take the 'Paradise Route' and visit Bertioga, Guarujá and hike to picture-perfect beaches like Camburizinho, White Beach and Black Beach for swimming and relaxation. Roundtrip transport from your São Paulo city hotel and a driver/guide are included.... Read More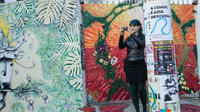 Duration:
5 hours
Priced From:
USD 100.00
Discover Brazil's most modern and metropolitan city on a 5-hour walking tour focused on art, fashion and architecture in São Paulo. Your guide is an expert in São Paulo's trendy cultural scene and will take your small group to discover up-and-coming neighborhoods, unique bars and urban art. Hit up a dance show in the city center and explore cool shops. Some food samplings and entrances fees are included.