Things To Do in Kos & Kos Airport Layover Ideas
Things to do in Kos if you have a Kos Airport Layover or Extended Kos Airport Stopover
If you have an extended layover at the Kos Airport or staying in town, why not consider getting out with some fun activities? We list a few here and there are many more on
Kos.LayoverIdeas.com
.
Duration:
3 to 5 hours
Priced From:
USD 16.20
Aquatica Waterpark is the newest and most extreme waterpark on Kos island!!
Duration:
8 hours
Priced From:
USD 34.71
Spend a lazy day soaking up the sun on Kos Island on an 8-hour sailing tour to the islands north of Kos. Swim and snorkel in the sea, discover peaceful coves and quiet beaches, and marvel at the charming little towns of Pothia and Pserimos.
Duration:
9 hours
Priced From:
USD 37.02
Visit the Greek island of Kos on an independent day trip from Bodrum, and enjoy a full day of free time to get to know its history and scenery! Bask on breathtaking beaches, shop for Greek island souvenirs or discover historical landmarks such as Kos' 14th-century Castle of the Knights. Round-trip transport by hydrofoil is included, but all activities, entrance fees and food are at your own expense.
Duration:
8 hours
Priced From:
USD 46.28
Cruise to the islands of Kalymnos, Platy and Pserimos on a boat trip from Kos. Get some time to swim in the crystal clear waters or relax on the beach. Visit the unique Sponge Museum and more.
Duration:
4 hours
Priced From:
USD 52.07
Get behind the wheel of a 4WD jeep and drive the rugged roads of Kos on a half-day adventure. Choose from 2 different tours and explore the east and north coast of the island.
Duration:
8 hours
Priced From:
USD 52.07
Enjoy this one hour cruise to the Dodecanese island of Nisyros and enter the crater of the volcano where you can feel lava rumbling beneath your feet. A visit to the monastery of Panagia Spiliani is also part of the tour to Nisyros. One of the most interesting islands of the Dodecanese awaits you - Nisyros, the volcano island.
Duration:
8 hours
Priced From:
USD 69.43
Scuba diving can change your life forever! It opens your eyes and your mind. Life can be everywhere. Explore the mysteries of the sea and discover the incredible world of disguise and camouflage.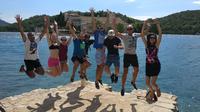 Duration:
8 days
Priced From:
USD 682.69
<p>7-DAY RETURN TRIP FROM KOS</p> <p>To see all the Dodecanese (literally "12 islands"), north and south of Kos, you'd need at least 2 weeks. But one week is enough for a taster, and Kos is the easiest starting point, to explore the well-known jewels as well as the more remote secrets. Our itinerary isn't too intense, averaging about 4-5 hours of sailing a day, and the rest, leisurely time to explore and enjoy the beauty of these unique islands.<br><br> This is an active and participative holiday, where you will learn new skills, meet some great new people and explore together the wonders of Greece! You will sail in crews of no more than 9 people, led by an experienced skipper. You can expect to sail with open, easy-going people with wide horizons. The average age range for our sailing holidays is between 25 and 40 years, but all are welcome!</p> <p><br><strong>No previous sailing experience is necessary to join!</strong></p>... Read More
More Kos Airport Transfer & Airport Connection Options