Things To Do in Zanzibar & Zanzibar Airport Layover Ideas
Things to do in Zanzibar if you have a Zanzibar Airport Layover or Extended Zanzibar Airport Stopover
If you have an extended layover at the Zanzibar Airport or staying in town, why not consider getting out with some fun activities? We list a few here and there are many more on
Zanzibar.LayoverIdeas.com
.
Duration:
2 to 3 hours
Priced From:
USD 25.00
You are guided by a local certified and licensed professional tour guide.<br>All our guided tours are private, that highlight and cover every aspect of Zanzibar history, stone town architecture, cultural heritage and daily life.<br>
Duration:
2 to 3 hours
Priced From:
USD 25.00
Meet your guide at your convenient place of pick up and start your walk through stone town. With its defined and overlapping African, Arab, Indian, Persian and European elements, it was designated a UNESCO World Heritage Site in 2000, the tour leads you through a maze of narrow streets, a visit to the Anglican Cathedral (former slave market), House of Wonders (national museum), the Old Fort, Darajani market where local people purchase their daily requirements and also a market street full of colorful textiles, Hamamni Baths, Catholic Cathedral, Freddy Mercury house and experiencing the hustle and bustle of the streets, the bazaar full of coffee drinkers and the beautiful doors of Zanzibar, you too will bear witness that Stone Town is a cultural crossroads and that it is worthy of its world heritage title.... Read More
Duration:
3 hours
Priced From:
USD 25.00
Explore Stone Town, the atmospheric cultural and historical heart of Zanzibar City, on this 3-hour walking tour with a guide. Constructed from coral stone in the 19th and 20th centuries, Stone Town was declared a UNESCO World Heritage site in 2000. You'll get to know the town as you see heritage sites and architecture, visit a local marketplace, check out the church and memorial at the old slave market, admire the former home of the sultan, and do some shopping with the help of your guide. Tour is limited to 10 people to provide a small-group experience.... Read More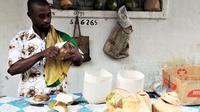 Duration:
2 hours
Priced From:
USD 29.00
Explore the charming streets of Zanzibar's Stone Town on an afternoon food expedition that takes you to the best local food spots in town. Learn about the fascinating history of this stunning UNESCO World Heritage site and visit the local market with a local guide by your side. As you unlock the secrets of the area's culinary delights, you'll meet local people and learn about their everyday lives. This is a captivating (and tasty) introduction to everything that historic Stone Town has to offer!
Duration:
6 to 8 hours
Priced From:
USD 30.00
For Ecotourists, Jozani Forest is a must visit when travelling through Zanzibar. We get to witness the only National Park in Zanzibar.<br>Being the last Natural Forest Reserve Zanzibar has to offer, Jozani Forest is home to some of the most magnificent Flora and Fauna in Zanzibar. We get to see rare monkey species and natural tropical vegetation exclusive only to Zanzibar.<br>Get to see Red Colobus Monkeys, Zanzibar Sykes' Monkeys, bush babies and many more. <br>Moreover, enjoy a complimentary visit to The Rock Restaurant (optional).... Read More
Duration:
4 hours
Priced From:
USD 35.00
Visit schools, meet locals and walk in a seaweed farm! This tour takes you to Jambiani village, where you will have the chance to experience rural Zanzibar life. The tour is planned in cooperation with the village and includes donations. Meet locals and experience the village life. Visit a seaweed farm. Learn about Zanzibari handicrafts. Visit a school and/or health clinic. Enjoy the delicious local cuisine.
Duration:
3 hours
Priced From:
USD 35.00
Gets your majestic experience during 3 hours Stone Town Bike Tour in Zanzibar. We have design the most scenic biking rout in the old city of Zanzibar, riding the most recognized landmark as you explore the ancient buildings, colonial places that between them walls containing the history of the ancient dominion of Sultan. House of wonder (the palace of Sultan No.1) The old Anglican church (before -was the slave market) The born house of Freddy Mercury , Sultan Palace, The Portuguese old forte, the house where the powerful merchant and slave trader Tippu Tip (1837-1905) lived, Hamamni Persian Baths, The Old Dispensary, Old market of fruits, vegetables and fishes, Marughubi Palace and Amaan Stadium.<br>With our expert guides, your biking trip leaders know the least trafficked cycling routes and also the most terrific stops. A Back roads bike tour is a dream experience, can you already feel a cloves breeze and the sunset on your face?... Read More
Duration:
6 hours
Priced From:
USD 36.00
This full day trip will provide you with completely history of what happen during Zanzibar slavery. Visit well known reminders of Zanzibar Dark history in the slave trade. Old slave market site, Slave chamber and slave caves. Visit the Tippu Tip house, the common Swahili Zanzibar slave trader, Ivory trader, explorer, plantation owner and Governor. This trip will end up at the Mangapwani Beach where you can relax, sunbath, enjoy the swimming at the former slave sea port.
More Zanzibar Airport Transfer & Airport Connection Options