Things To Do in Acapulco & General Juan N Alvarez Airport Layover Ideas
Things to do in Acapulco if you have a General Juan N Alvarez Airport Layover or Extended General Juan N Alvarez Airport Stopover
If you have an extended layover at the General Juan N Alvarez Airport or staying in town, why not consider getting out with some fun activities? We list a few here and there are many more on
Acapulco.LayoverIdeas.com
.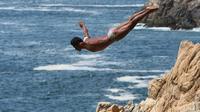 Duration:
4 hours
Priced From:
USD 25.00
Relax while you take in the sights of Acapulco from the comfort of an air-conditioned van. Visit the Chapel of Peace, watch locals cliff-diving into the Bay of Acapulco and snap photos of a mural painted by Diego Rivera. Experience the city's key attractions and shopping spots including its major avenue and the posh Las Brisas resort. Round-trip hotel transport is included.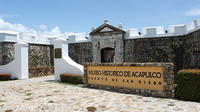 Duration:
4 hours
Priced From:
USD 25.00
See the world famous high cliff diving exhibition and Fort San Diego, one of the historical highlights of Acapulco. Housing a fine museum with air-conditioned and well- lit rooms depicting the main themes of the trans-Pacific trade, its 8-foot-thick walls contain unique and interesting professional exhibits that depict life in another era. This museum focuses on the era of the Manila Galleons, which came here yearly for 250 years. The exhibit rooms are arranged chronologically, starting on your right with the foundation of the Fort in 1614.... Read More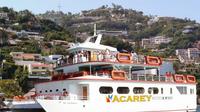 Duration:
2 hours 30 minutes
Priced From:
USD 25.50
Experience all the beauty of Acapulco's bay on a tropical cruise and relax to live music while you enjoy delicious cocktails. Be amazed by the spectacular scenery of sunsets and moonlight over La Roqueta Island and Acapulco on this 2.5-hour yacht cruise.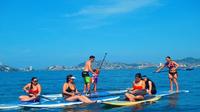 Duration:
2 hours 30 minutes
Priced From:
USD 30.00
<p>Experience rowing a Stand Up Paddle Board and enjoy the warm waters of Acapulco&rsquo;s main Santa Lucia Bay. After an instructor gives you instructions and your equipment you will be able to enjoy the sea for one hour with the whole family, setting off from one of the most beautiful beaches in the area.</p>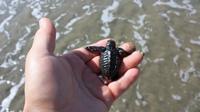 Duration:
4 hours
Priced From:
USD 33.00
<p>Enjoy 4 hours in an excursion that has been designed to please every member of the family as it will take you to&nbsp;the most appealing and interesting sites in the city of Acapulco</p> <p>On this excursion you will get to the west and east extremes as well as to the very top of Acapulco. You will also be explained about the lifestyle of the Mexicans as you drive to very interesting sites as your knowledgeable and fun loving tour guide tells you everything about this fabulous city.</p>... Read More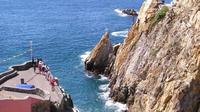 Duration:
4 hours
Priced From:
USD 33.00
A tour that will show you every important attraction of Acapulco. Admire the famous Divers of La Quebrada; the new and the old Acapulco, one of the most beautiful bays in the world and the Acapulco Diamante Sector, and the very pricey residential area of Las Brisas. The tour will stop for shopping, view points in north, east and west parts of the city. <br />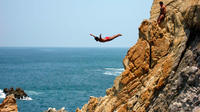 Duration:
4 hours
Priced From:
USD 35.00
<p>There are no set shopping stops in this excursion. The tour starts only at lobby of your hotel and you'll be in a small-group to see the best attractions in Acapulco. You'll visit the chapel of peace, the high cliff divers of La Quebrada, the working class housing sectors, the rich residential area, the middle class neighborhoods, three different stops for pictures, the mural of Diego Rivera. Your tour includes drinks, transport and a professional guide. </p>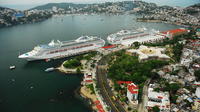 Duration:
4 hours
Priced From:
USD 36.00
This is a sightseeing tour that includes the overview to the three important areas of Acapulco. See The Traditional Zone with famous La Quebrada; The Golden Zone surrounding one of the most beautiful bays in the world and the not less important Diamond Zone, connected by the outrageous Scenic Highway. It is home to exclusive hotels, residential complexes, luxury condominiums and private villages. Stops at La Quebrada, a silver shop, a view point for pictures at the Scenic Highway and Princess Hotel are included. Departure is daily and based on the cruise ship call. ... Read More