Things To Do in Akureyri & Akureyri Airport Layover Ideas
Things to do in Akureyri if you have a Akureyri Airport Layover or Extended Akureyri Airport Stopover
If you have an extended layover at the Akureyri Airport or staying in town, why not consider getting out with some fun activities? We list a few here and there are many more on
Akureyri.LayoverIdeas.com
.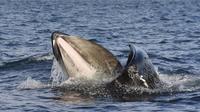 Duration:
3 hours
Priced From:
USD 78.30
Experience the incredible humpbacks in the Eyjafjord on board our comfortable sight seeing ship. Family friendly and great value whale watching tour operated up to 4 times a day from Akureyri in North Iceland.
Duration:
3 hours
Priced From:
USD 79.51
Watch out for whales, dolphins and more on a 3-hour whale-watching tour. Choose a start time to suit your schedule with an optional hotel pickup and drop-off from Akureyri, and then cruise from Dalvik into the waters for close-up views of north Iceland's marine creatures and birdlife. Complimentary use of extra-warm Icelandic clothing is offered plus refreshments and a hot drink while on board. On the way back, try your hand at sea angling and finish by eating your catch while back on shore! ... Read More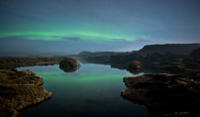 Duration:
2 hours 30 minutes
Priced From:
USD 96.55
View the spectacular Northern Lights on a 2.5-hour guided coach tour from Akureyri. Leave the electric glow of the city behind and venture into Iceland's countryside to seek out the Aurora Borealis, one of nature's most wondrous phenomena. As you gaze up at the shimmering night sky, hear more about the science behind this occurrence from your knowledgeable guide.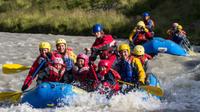 Duration:
3 hours 30 minutes
Priced From:
USD 119.26
Gentle rapids, stunning scenery, and natural riverside hot springs make the West Glacial River the perfect playground for paddlers of all ages! Float through the spectacular glacial canyons and experience Iceland beyond the reach of motors and foot.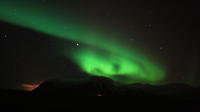 Duration:
Flexible
Priced From:
USD 124.95
4x4 JEEP TOURS: Northern lights hunting in the north, Join our jeep and escape the light pollution of the city and go with us outside Akureyri to see the amazing Northern lights. The Northern Lights viewing for this winter looking to be very active and there are few better places to see them than in the North around Akureyri.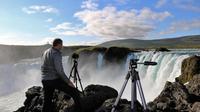 Duration:
2 hours 30 minutes
Priced From:
USD 134.04
4x4 Jeep Tour: Goðafoss "waterfall of the gods" is one of the most spectacular waterfalls in Iceland falling from a height of 12 meters over a width of 30 meters.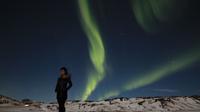 Duration:
3 hours
Priced From:
USD 157.89
We start our Northern Lights Safari at 8:30 pm. We travel in a comfortable 4x4 vehicle and head for the most likely area to see the Northern Lights.<br />The tour is approx 3 hours in duration.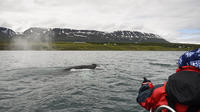 Duration:
2 hours
Priced From:
USD 159.03
Experience getting up close to the incredible humpback whales of the Eyjafjord, starting from the capital of North Iceland, Akureyri. With only 12 passengers on each boat we can guarantee an adventure of a lifetime on this intimate whale watching tour. Our specially made RIB boats allow you to get closer to the whales and wildlife than any other boat can offer. The ribs are small and fast boats that get you to the viewing area quickly and cover a bigger area as we search for the wildlife. This means a bigger chance of spotting whales, dolphins and bird life with out disturbing them in their natural habitat.... Read More
More Akureyri Airport Transfer & Airport Connection Options