Things To Do in Aqaba & Aqaba Airport Layover Ideas
Things to do in Aqaba if you have a Aqaba Airport Layover or Extended Aqaba Airport Stopover
If you have an extended layover at the Aqaba Airport or staying in town, why not consider getting out with some fun activities? We list a few here and there are many more on
Aqaba.LayoverIdeas.com
.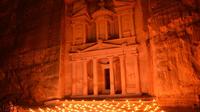 Duration:
4 hours
Priced From:
USD 62.50
Petra has a special charm that is amplified at night. This tour starts from the entry gate to Petra passing the Siq where you will walk until you reach the treasury. The whole way will be lite by candles and accompanied with a Rababa that carries you away to the old time.
Duration:
3 hours
Priced From:
USD 75.00
4x4 safari in Little Petra exploring the unique scenery.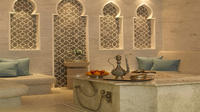 Duration:
78 minutes
Priced From:
USD 87.50
The Turkish hamam, otherwise known as a Turkish bath, is the Middle Eastern variant of a steam bath. During the Ottoman Empire the bath played an important part in Middle Eastern culture.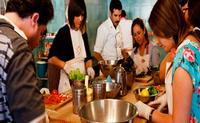 Duration:
4 hours
Priced From:
USD 93.75
Join for an unforgettable experience, and help to prepare your own dish and not any dish, an original Jordanian dish. There is no better place for doing that than in an authentic Petra kitchen. Here visitors will enrich their experiences on a nightly cooking class.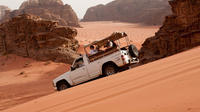 Duration:
8 hours
Priced From:
USD 162.00
Wadi Rum is the unique desert of Jordan the Middle East best described Lawrence of Arabia 'Vast and echoing as God made' Red sand dunes with tall sand and Granite Mountains that cannot be described by any words unless you will have the experience. Full day tour of Rum could give this kind of experience with taste of culture and adventure. Where the experience of places and faces met together as you are guided by the people of the desert, The Bedouins.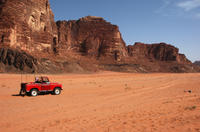 Duration:
8 hours
Priced From:
USD 162.50
Delve into the desert wilderness of Wadi Rum on this private full-day trip from Aqaba! Travel to this magical desert region and join a friendly Bedouin driver for a 4x4 tour of its jagged mountains, canyons and rock towers. Check out ancient rock carvings and pause for photos at beauty spots along the way. Then, visit a Bedouin tent for mint tea before returning to Aqaba. You can also upgrade to enjoy a camel ride. This tour includes private, round-trip transport and ensures personalized attention from your Bedouin driver-guide. ... Read More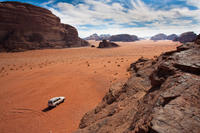 Duration:
2 days
Priced From:
USD 168.75
Soak up the spectacular desert wilderness of Wadi Rum on this overnight tour from Aqaba! Head deep into the UNESCO-protected region and marvel at its epic mountains, gorges, valleys and rock carvings on a 4x4 tour. End your day with a Bedouin dinner around the campfire, watch the stars twinkle to life in the night sky, and sleep in true local style in a Bedouin tent! Upgrade to include a camel ride, and squeeze every last drop of adventure from your overnight desert odyssey!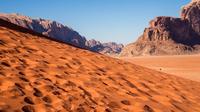 Duration:
Flexible
Priced From:
USD 181.25
This private tour is an excellent way to discover Wadi Rum from Aqaba port. The half day tour takes you into 'Valley of the Moon ' in 4-6 hours. Follow the footsteps of Lawrence of Arabia in Wadi Rum by riding a camel, then take a Jeep tour to see even more!
More Aqaba Airport Transfer & Airport Connection Options