Things To Do in Arusha & Arusha Airport Layover Ideas
Things to do in Arusha if you have a Arusha Airport Layover or Extended Arusha Airport Stopover
If you have an extended layover at the Arusha Airport or staying in town, why not consider getting out with some fun activities? We list a few here and there are many more on
Arusha.LayoverIdeas.com
.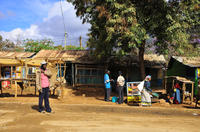 Duration:
5 hours 30 minutes
Priced From:
USD 91.00
Get a taste of local life on this 5.5-hour small-group coffee and community tour of Tengeru village from Arusha. After discovering what life is like in a traditional Tanzanian coffee-producing village, walk around a coffee plantation to see coffee and other crops farmed before enjoying a lunch of tasty specialties at a local family home. Finally, master the art of roasting and grinding coffee, and then sample a cup of your very own brew! Numbers are limited to 12 on this small-group tour, ensuring a personalized experience. ... Read More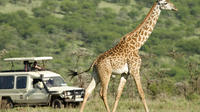 Duration:
1 day
Priced From:
USD 143.00
<strong></strong>Unlike any park you'll find elsewhere in Tanzania, Tarangire's distinctive terrain makes it a thrilling day trip. With an animal population that includes Tanzania's largest elephant herds, Tarangire's instantly recognisable baobab and its often dry terrain make for a unique game drive experience. In addition to its large elephant herds, Tarangire offers visitors a chance to see wildlife such as lions, giraffes, zebras, antelopes, baboons, buffalo, olive monkeys, and much more.<br /><br />Your day long game drive includes a picnic lunch and a thorough exploration of this fascinating national park.... Read More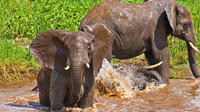 Duration:
1 day
Priced From:
USD 143.07
The former filming location for the classic Tarzan films, rugged Lake Manyara National Park is one of Tanzania's most popular safari destinations. One of only two places in Africa where tree-climbing lions can be seen in the wild, Lake Manyara is also home to hippos, buffalo, elephants, and much more!<br /><br />Your day trip will include a day long game drive through the park, as well as a picnic lunch out in the wilderness.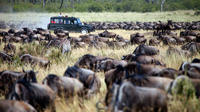 Duration:
1 day
Priced From:
USD 148.00
<strong></strong>Your one day tour to Arusha National Park offers something different to what you'll find anywhere else in Tanzania, with the opportunity to leave the safari vehicle and get out on your own two feet with a guided walking safari. With no large predators within the park, your half-day game drive and half-day walking safari will see you spotting giraffes, zebras, buffalos, antelopes, flamingos, baboons, and the elusive black and white Colobus monkeys amidst the dense forests, open grasslands, and beautiful Momella Lakes of Arusha National Park.<br /><br />Other highlights of your day trip include the chance to see Ngurdoto Crater, sometimes known as 'Mini Ngorongoro', as well as a stop at the Ngurdoto Museum.... Read More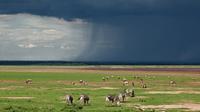 Duration:
1 day
Priced From:
USD 187.00
One of Tanzania's most popular parks, the world-famous Ngorongoro Conservation Area is like something out of myth and legend. A flawless paradise of wide open plains dotted with waterways, the crater floor is surrounded on all sides by the sheer walls of this massive volcanic caldera. Within Ngorongoro live some of the world's most iconic wildlife, including the entirety of the Big Five. <br /><br />The best place in Tanzania to see the endangered black rhinoceros, Ngorongoro is also exceptionally good for hyena, flamingo, lion, elephant, buffalo, wildebeest, and hippo sightings. Your day trip to Ngorongoro will include a half-day game drive through the fabled wilderness as well as a picnic lunch by an active hippo pool.... Read More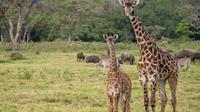 Duration:
1 day
Priced From:
USD 288.00
<p>Embark on our ultimate day trip to Arusha Nationanal Park. You can book at any time of your convenience, &nbsp;You will enjoy and experience nature, wildlife, habit and habitat of the fauna and flora in the natural areas.&nbsp;</p>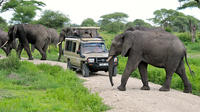 Duration:
Flexible
Priced From:
USD 295.00
<p>This is an ultimate day trip from Arusha, You can book at any time of your convenience, You will enjoy and experience nature, wildlife, habit and habitat of the fauna and flora in the natural areas. </p>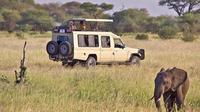 Duration:
Flexible
Priced From:
USD 307.00
<p>This is an ultimate day trip from Arusha. You will enjoy and experience nature, wildlife, habit and habitat of the fauna and flora in the natural areas.</p>
More Arusha Airport Transfer & Airport Connection Options