Things To Do in Antwerp & Port of Antwerp Terminal Layover Ideas
Things to do in Antwerp if you have a Port of Antwerp Terminal Layover or Extended Port of Antwerp Terminal Stopover
If you have an extended layover at the Port of Antwerp Terminal or staying in town, why not consider getting out with some fun activities? We list a few here and there are many more on
Antwerp.LayoverIdeas.com
.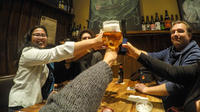 Duration:
3 hours
Priced From:
USD 5.68
Enjoy the best beer that Antwerp has to offer during your 3 hour private tour with your local guide Jorge. You will get to try the best beers in Belgium where locals like to go, these bars are some of the best the city has to offer.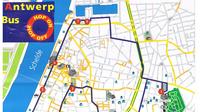 Duration:
60 minutes
Priced From:
USD 14.77
A organised city tour by bus including a commentary with headsets in 8 different languages.<br>Providing an hop-on hop-off possibility a 8 different bus stops.<br>Ticket remains valid for 48 hours.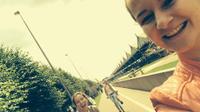 Duration:
2 hours
Priced From:
USD 22.72
The 'Antwerp by Bike' tours show you all the highlights and landmarks of Antwerp, like the cathedral, the Central Station and the MAS museum. Together we explore the main hotspots of the city, as well as some hidden gems. <br><br>Antwerp By Bike is the leading bike tour organisation in Antwerp: with over 5 years of experience, our guides are well-known for their in-depth knowledge of the city and their great story-telling skills. <br><br>Hop on one of our high quality bicycles and discover Antwerp with us! ... Read More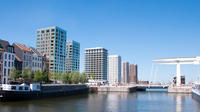 Duration:
3 hours
Priced From:
USD 24.99
Guided bike tours in the city center of Antwerp:<br />Interesting and fun for all ages; children seats, children bikes, e-bikes and classical bikes available. 5 Different tours to choose from: Classic, Classic by Night, Kids Tour, De Koninck Tour (beer tasting and visit of the brewery included) and Burie Chocolate Tour.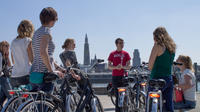 Duration:
3 hours
Priced From:
USD 26.13
Marnix takes you on a bike tour around Antwerp in less than 4 hours. Find out what Antwerp is all about on our trademark bike tour.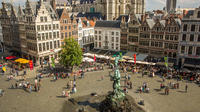 Duration:
3 hours
Priced From:
USD 27.26
Get the feel of Antwerp like a local during your private tour with your guide Etienne. You will get to see famous buildings in Antwerp and appreciate the modern and old architecture. You will also take a stroll down down narrow alleys and get to enjoy a coffee while watching fellow locals go about their daily lives.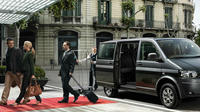 Duration:
Flexible
Priced From:
USD 28.40
The easiest way to get to Bruges and &nbsp;to travel back to the airport.&nbsp;<div><span style='line-height: 1.5;'>Your driver is waiting for you in the arrival hall. &nbsp;No waiting time, no detours.</span> </div>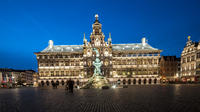 Duration:
1 day
Priced From:
USD 30.67
<p>If you are interested in exploring all of Antwerp then you can use the Antwerp City Card as your guide. The card will open some of the nicest, tastiest and most surprising doors of the city to you for free or at a discount.</p> Antwerp has a lot to offer so with this card you can see all the best parts the city has to offer in a short space of time. The Cathedral of Our Lady, Rubens House, the MAS museum are some of the included attractions to the Antwerp City Card.<br /><br />You can also use public transport free of charge as long as your Antwerp City Card is valid. There are also discounts on bike rental, in&nbsp; chip shop and a free ticket on the hopNstop shuttle (make sure you take it at least once!)... Read More