Things To Do in Casablanca & Anfa Airport Layover Ideas
Things to do in Casablanca if you have a Anfa Airport Layover or Extended Anfa Airport Stopover
If you have an extended layover at the Anfa Airport or staying in town, why not consider getting out with some fun activities? We list a few here and there are many more on
Casablanca.LayoverIdeas.com
.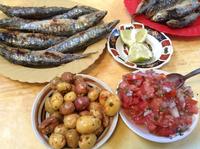 Duration:
3 hours
Priced From:
USD 46.57
Venture off the beaten path to get a taste of local life in Essaouira on this 3-hour walking tour. Following a local guide, walk along the historical city ramparts to a panoramic lookout point, and check out local art at a colorful souk in the UNESCO World Heritage-listed Medina of Essaouira. Sample traditional Moroccan treats at local pastry shops, eat fresh seafood side-by-side with locals at the lively fish market, and sip specialty Moroccan tea at a traditional herbalist shop. This tour incorporates all your senses to give you a great overview of Essaouira. ... Read More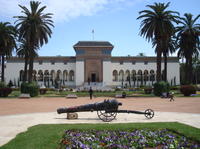 Duration:
4 hours
Priced From:
USD 63.61
While you're in port in Casablanca, make the most of your time in the city on this private Casablanca shore excursion. Take the scenic Ain Diab coastal road to the Hassan II Mosque, one of the largest in the world. Drive through the stylish residential quarter of Anfa and admire magnificent mansions and luxury villas. Discover top city attractions such as Notre Dame de Lourdes Cathedral and the esplanade of the Royal Palace. Enjoy free time to explore at your leisure among the Moorish buildings of the Habous quarter. ... Read More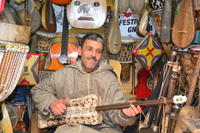 Duration:
3 hours
Priced From:
USD 71.56
<div>On this evening tour in Essaouira, step inside the world of the 'gnawa,' an Afro-Moroccan group whose music, culture and traditions are the heartbeat of Morocco. Meet gnawa masters, jam with local musicians, and watch dance performances to experience this addictive music genre first-hand, in places that many Essaouira visitors don't know about. In true local style, finish at a popular music spot in town to socialize some more. Numbers are limited to 8 on this small-group tour, ensuring a more personalized cultural experience.</div> ... Read More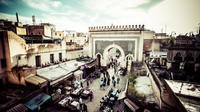 Duration:
1 day
Priced From:
USD 73.84
Founded in the year 790 by Moulay Idriss, Fez is the most religious, intellectual and artistic capital of the Moroccan metropolises and the cradle of the millennial monarchy. During a long period, Fez was the capital of the Cherifian Empire and, for years, has preserved both its historic place of learning and its role as an intact Islamic city. The city's elaborate network of narrow streets and passageways will prove an adventure to navigate, while simultaneously experiencing a sensory awakening: the bustle, sounds and voices; the delicate aroma of oriental perfumes or the scent of tanned hides; the barbecues and the confectionery shops…all in one place, the Imperial City of Fez!<br><br> ... Read More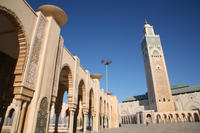 Duration:
3 hours
Priced From:
USD 77.24
Get to know the cultural, historical and economic center of Morocco on this Casablanca sightseeing tour. This 3-hour morning or afternoon coach tour introduces you to the main sights of this old-world city including the Hassan II Mosque, United Nations Place, Mohammed V Square, the Central Market and the Royal Palace. Plus enjoy free time to walk along the Ain Diab Corniche and admire the oceanfront scenery.<br />This small-group tour is limited to 18 people, ensuring you'll receive personalized attention from your guide.... Read More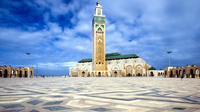 Duration:
4 hours
Priced From:
USD 78.38
Explore the cultural, historical and economic center of Morocco. Casablanca or what most people call it Dar El Beida sightseeing tour is a great way to get an overview of the city.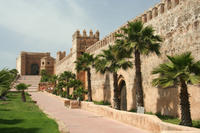 Duration:
12 hours
Priced From:
USD 81.79
While you're in port, make the most of your time in Casablanca and visit the ancient capital of Rabat<span style='line-height: 20.4545440673828px;'> </span>on this private shore excursion. With your very own guide, visit Casablanca's Hassan II Mosque, one of the world's largest mosques, and Notre Dame de Lourdes Cathedral with your guide. Then, in Rabat, explore the UNESCO World Heritage-listed Kasbah of the Udayas near the banks of the Bou Regreg River; admire Alaouite dynasty architecture at the Mausoleum of Mohammed V; and see the Hassan Tower. ... Read More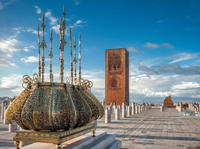 Duration:
9 hours
Priced From:
USD 81.79
While you're in port in Casablanca, spend your time exploring Morocco's ancient capital on this private Rabat shore excursion. On your sightseeing tour, travel along the Atlantic coast to Rabat and discover top city attractions like the Royal Palace and Chellah — an abandoned 12th-century fortress. Follow your guide to the Mausoleum of Mohammed V, a masterpiece of Moroccan architecture. Admire the red sandstone Hassan Tower and explore the UNESCO World Heritage-listed Kasbah of the Udayas, near the banks of the Bou Regreg River. ... Read More
More Anfa Airport Transfer & Airport Connection Options